Source:
Syfy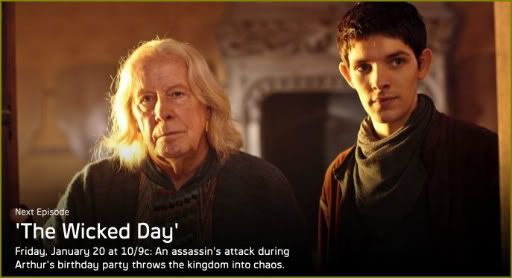 MERLIN - SYFY VIDEO: 'THE WICKED DAY' EPISODE TRAILER - AIRS FRIDAY, JANUARY 20, 2012 AT 10/9C
An assassin's attack on Arthur's birthday casts the kingdom into chaos. Merlin Friday at 10/9c.
The mighty citadel is buzzing in anticipation of the prince's birthday celebrations. But Arthur's old adversary, Odin, promises to ensure this is one party Camelot will never forget. For amongst the assembling guests lurks a deadly assassin, set to strike. As the dust settles, Camelot is left devastated. But just how far is Merlin prepared to go to put things right? Would he really risk everything and reveal his secret?
Guest stars include Rupert Young, Tom Hopper, Adetomiwa Edun, Nathaniel Parker, Eoin Macken, and Michael Cronin.