Source: Syfy
schedulebot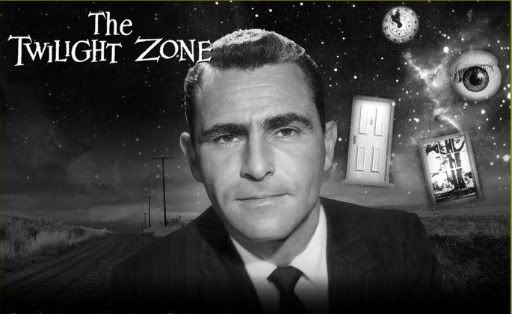 THE TWILIGHT ZONE (1959) - SYFY: MARATHON WEDNESDAY, DECEMBER 14, 2011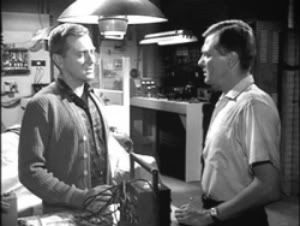 George Grizzard ... and George Grizzard?
08:00 AM
In His Image
In the first hour-long show,
George Grizzard
portrays a man whose sudden murderous impulse is followed by an apparent loss of memory and familiar surroundings.
Cast includes George Grizzard, Gail Kobe, Wallace Rooney and George Petrie.
Simon Oakland and John Considine
09:00 AM
The Thirty Fathom Grave
Terror grips a seaman when a strange tapping sound draws his shipmates to the site of a sunken WWII submarine.
Cast includes Mike Kellin, David Sheiner, Simon Oakland, Bill Bixby and John Considine.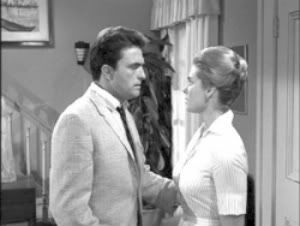 Ed Nelson and Natalie Trundy
10:00 AM
Valley Of The Shadow
Ed Nelson
plays a newspaper reporter who stumbles into a small town where residents have extraordinary powers, which they insist remain hidden from the outside world.
Cast includes Ed Nelson,
Star Trek's
James Doohan, David Opatoshu, Natalie Trundy, Jacques Aubuchon, Morgan Brittany and Sandy Kenyon.
Dennis Hopper and minions
11:00 AM
He's Alive
Dennis Hopper
stars as a neo-Nazi leader whose struggle for supporters is assisted by advice from a mysterious stranger with tips on attracting followers.
Cast includes Dennis Hopper, Ludwig Donath, Curt Conway, Paul Mazursky, Barnaby Hale, Howard Caine, Jay Adler, Wolfe Barzell and Bernard Fein.
Ann Jillian and Irene Dailey
12:00 PM
Mute
A telepathic mute girl (a preteen
Ann Jillian
) is the only survivor of a fire.
Cast includes Barbara Baxley, Frank Overton, Irene Dailey, Ann Jillian, Éva Szörényi, Robert Boon, Claudia Bryar, Percy Helton and Oscar Beregi Jr.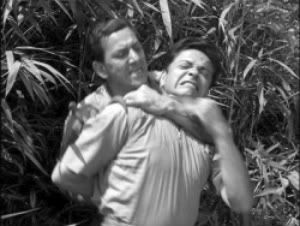 Jack Klugman and Ross Martin
01:00 PM
Death Ship
In his third series appearance,
Jack Klugman
plays one of three astronauts who find their lifeless look-alikes in a crashed spaceship on a distant planet.
Cast includes Jack Klugman, Ross Martin, Fred Beir, Mary Webster, Ross Elliott, Sara Taft and Tammy Marihugh.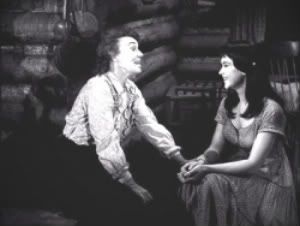 Jeanette Nolan and Anne Francis
02:00 PM
Jess-belle
Anne Francis
plays a mountain girl who wins back her fickle beau with the help of a witch (
Jeanette Nola
n), who exacts a high price for her love potion.
Cast includes Anne Francis, Jeanette Nolan, James Best, Laura Devon, Virginia Gregg, George Mitchell and Helen Kleeb.
Robert Duvall
03:00 PM
Miniature
Robert Duvall
is a timid office clerk who finds life in the figurines of a museum's miniature 19th-century dollhouse. A lawsuit over the story idea kept the episode out of initial syndication.
Cast includes Robert Duvall, Barbara Barrie, Pert Kelton, Len Weinrib, William Windom, Claire Griswold, Nina Roman, Richard Angarola and John McLiam.
Patricia Crowley, Burgess Meredith and Robert Sterling
04:00 PM
Printer's Devil
In his fourth and final series appearance,
Burgess Meredith
plays a linotypist who saves a dying newspaper by reporting on disasters---before they happen.
Cast includes Burgess Meredith, Robert Sterling, Ray Teal, Patricia Crowley, Charles Thompson and Doris Kemper.