Source:
Syfy schedulebot
[
NOTE: schedule subject to change
]
STARGATE ATLANTIS - SYFY: SEASON TWO MARATHON TUESDAY, JANUARY 10, 2012
Season two cast includes Torri Higginson, Joe Flanigan, David Hewlett, Rachel Luttrell, Paul McGillion and Jason Momoa.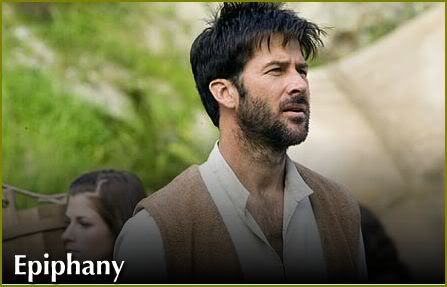 08:00 AM
Epiphany
The team discovers a portal on a distant planet that pulls Sheppard to another world, where he encounters a dangerous creature. Elsewhere, McKay learns troubling news about the portal.
Guest stars include Chad Morgan, David McNally, Nicole Muñoz and Scott E. Miller.
09:00 AM
Critical Mass
Atlantis is threatened by a bomb planted by the Goa'uld. Meanwhile, two Wraith cruisers are on course for the ancient city and a saboteur is unmasked.
Guest stars include Beau Bridges, Jaime Ray Newman, Ellie Harvie, Ben Cotton, David Nykl, Bill Dow, Peter Flemming, Gary Jones, Mitch Pileggi and Brenda McDonald.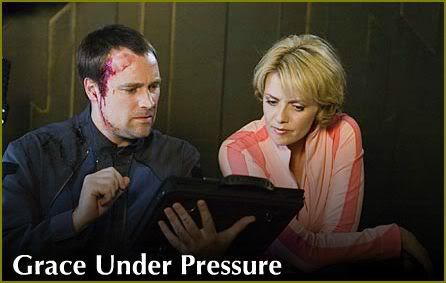 10:00 AM
Grace Under Pressure
A puddle-jumper test flight results in an ocean crash that leaves McKay (
David Hewlett
) trapped in a sinking ship.
Amanda Tapping
guest stars as her "
Stargate SG-1
" character Samantha Carter.
Guest stars include Amanda Tapping, David Nykl, William MacDonald, Peter Abrams and Nimet Kanji.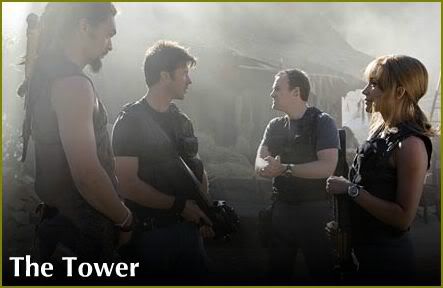 11:00 AM
The Tower
The team meets a village leader on a distant planet who has the ability to protect his people from Wraith attacks.
Guest stars include Peter Woodward, Jay Brazeau, David Bloom, Richard Kahan, Brendan Beiser, Chelan Simmons, Anna Cummer and Mark Gibbon.
12:00 PM
The Long Goodbye
The team discovers two pods orbiting a moon, and Sheppard and Weir are pitted against one another when the occupants of the pods seize control of their minds.
Guest stars include Kavan Smith, Mitch Pileggi, Chuck Campbell and Gerry Durand.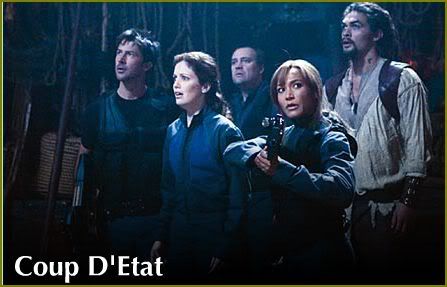 01:00 PM
Coup D'etat
While investigating a fire in a village on a far-off planet, the team discovers that a major carrying the Ancient gene has disappeared, and a Genii coup may be at hand.
Guest stars include
Sanctuary's
Ryan Robbins, Kavan Smith, Sonja Bennett,
Hell on Wheel's
Colm Meaney, Chuck Campbell and Penelope Corrin.
02:00 PM
Michael
Besieged by amnesia and nightmares in which he is a Wraith, Lt. Michael Kenmore (
Connor Trinneer
) learns there is more afoot on Atlantis than his recovery from a Wraith attack.
Guest stars include
Star Trek Enterprise's
Connor Trinneer, Claire Rankin and Douglas Chapman.
03:00 PM
Inferno
Weir persuades the leader of a village on a distant planet to evacuate his people to Atlantis when an investigation of tremors uncovers a supervolcano that's due for an eruption.
Guest stars include Kevin McNulty, Brandy Ledford, David Nykl, Mitch Pileggi, Chuck Campbell and Patrick Gallagher.
04:00 PM
Allies
The Wraith forges a truce with the team. Michael, the Wraith they tried to turn into a human, returns and seeks McKay's retrovirus to be used against rival factions in the Wraith civil war.
Guest stars include Brent Stait, Connor Trinneer (voice only), David Nykl, Mitch Pileggi, James Lafazanos, Andee Frizzell, Chuck Campbell and Kirby Morrow.