Source:
SciFi and TV Talk
[follow link for complete Q & A]

SCIFI AND TV TALK: Q & A With Merlin's Bradley James
by
Steve Eramo
December 30, 2011
At one time or another, most men are faced with trying to measure up to their father's expectations. That is sometimes easier said than done, especially when others are involved. In BBC's
Merlin
, Prince Arthur Pendragon has been trained to fight since birth, and his father, King Uther Pendragon, plans for his son to one day take over as the ruler of Camelot. Much to their surprise, that day comes earlier than expected in the show's fourth season. With his servant, protector, friend (and magician) Merlin by his side, Arthur must now look after the well-being after every man, woman and child in his kingdom and protect them from those scheming to end his reign by using magic against him.
Since the first episode of
Merlin
, actor
Bradley James
has delivered a convincing and thoroughly enjoyable performance as Arthur. Following in the footsteps of his series costar,
Colin Morgan
(Merlin), James has done a BBC Press Q & A to talk about his character's story arc in the show's fourth season, which has its North American premiere on Friday, January 6th @ 10:00 p.m. EST/PST on America's Syfy channel, and Saturday, January 7th @ 8:00 p.m. EST/PST on Canada's SPACE Channel...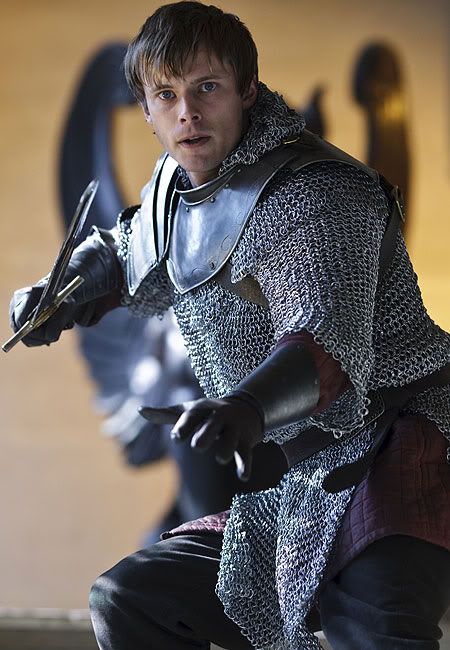 ...
Q: Another important addition is Agravaine (Nathaniel Parker). Has he brought something extra to Merlin?
Bradley James
: "
Definitely. Very early on, the audience becomes aware that Agravaine's allegiance is to Morgana [Katie McGrath]. Naturally, Arthur is completely unaware of this, which creates great dramatic tension. Someone has to play dumb – and as we've come to find out in Merlin, it's usually Arthur! But it also adds to the drama of the series that someone so close to Arthur can be the one that digs the knife in and twists it. As far as Arthur is concerned, his mother's brother is someone to be trusted implicitly. But the audience can see the cloaked dagger. Nathaniel Parker is very lively as Agravaine and has a great, dark look...
"