Source: Syfy
schedulebot
LAKE PLACID MOVIE MARATHON - SYFY: THURSDAY, JANUARY 5, 2012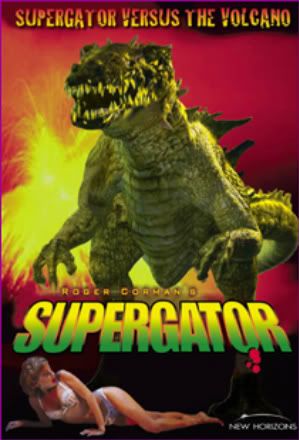 05:00 PM
Supergator
Scott Kinney
is an American geologist monitoring a local volcano when the Supergator, a prehistoric alligator recreated from fossilized DNA escapes from a secret bio-engineering research center. Kinney joins forces with another scientist and a Texan alligator hunter as they pursue the monster as it heads down river intent on destroying a luxurious resort packed with tourists.
Cast includes Brad Johnson, Kelly McGillis, Bianca Lawson, Mary Alexandra Stiefvater and Josh Kelly.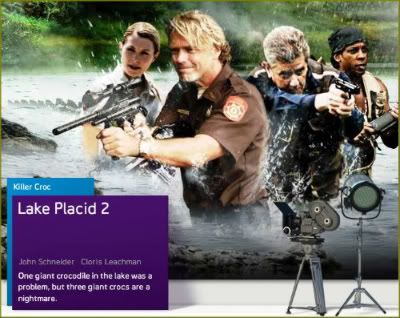 07:00 PM
Lake Placid 2
The quirky residents of Lake Placid once again become gator bait in this horror sequel. Eight years after the town was devastated by a giant crocodile, the creature's numerous offspring return for some human snacks of their own. It's up to the local sheriff (John Schneider), his ex-girlfriend, an EPA agent and a professional croc hunter to stop the bloodthirsty beasts before they kill again.
Guest includes John Schneider, Sarah Lafleur, Sam McMurray, Chad Michael, Alicia Ziegler, Joe Holt, Ian Reed Kesler, Justin Urich and Cloris Leachman.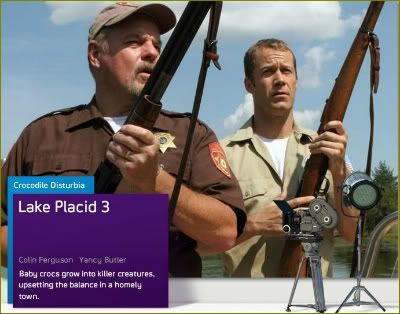 09:00 PM
Lake Placid 3
A game warden (
Colin Ferguson
) moves into his aunt's lakeside cabin with his wife and young son, and the little boy feeds the resident baby crocodiles until they grow up into monstrous predators that become a menace to the family.
Cast includes
Eureka's
Colin Ferguson, Yancy Butler, Kirsty Mitchell, Kacey Barnfield, Jordan Grehs, Michael Ironside, Angelica Penn and Bianca Ilich.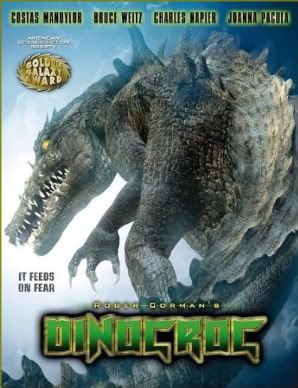 11:00 PM
Dinocroc
Scientists become victims of their own work when the cross ancient crocodile DNA with that of a dinosaur.
Cast includes Costas Mandylor, Charles Napier, Bruce Weitz, Matthew Borlenghi, Jane Longenecker and Max Perlich.
01:00 AM
Lake Placid 2
03:00 AM
Lake Placid 3