Source:
Assignment X
[follow link for complete interview]

FRINGE - ASSIGNMENT X: Exclusive Interview: Kirk Acevedo discusses the different worlds of PRIME SUSPECT and FRINGE
The actor also hints whether or not he'll be back on FRINGE
By
ABBIE BERNSTEIN
December 28th, 2011
Bronx-born actor
Kirk Acevedo
has spent a good portion of his performing career playing people on one side or the other of the law. After costarring as a soldier in HBO's landmark WWII miniseries
BAND OF BROTHERS
, Acevedo was a series regular in 46 episodes of HBO's prison drama
OZ
as inmate Miguel Alvarez. He has guest-starred on the original
LAW & ORDER
,
LAW & ORDER: SVU
and
LAW & ORDER: TRIAL BY JURY
.
Even when he's in genre fare, Acevedo seems to wind up in law-enforcement – he's
Fringe
Division's Charlie Francis in both universes on
FRINGE
. He's also starring in Syfy's upcoming TV movie
COLLISION EARTH
(no word yet on whether he'll ditch the badge or not for this one) [NOTE: Premieres on Syfy Saturday, January 14, 2012 at 9/8C. Now he's a series regular as NYPD police detective Luisito Calderon on NBC's recently cancelled
PRIME SUSPECT
. Acevedo gives us the lowdown on his legal eagle roles...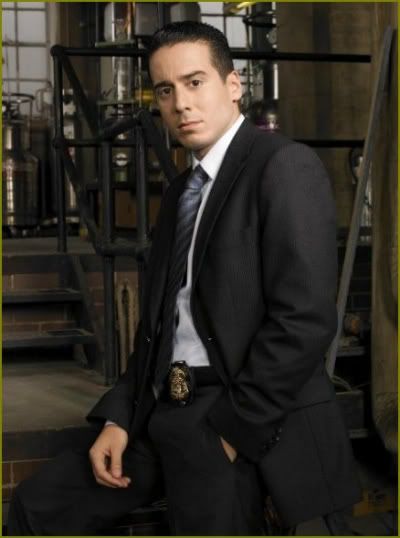 ...
AX: Will you be back this season on FRINGE?
ACEVEDO
: "
I think I'm going to do two or three [this season]. They're trying to work out the schedule.
"
AX: Has there been anything on either show that's grossed you out at all?
ACEVEDO
: "
Oh, the roaches! Definitely roaches [on FRINGE]
..."