Source:
Syfy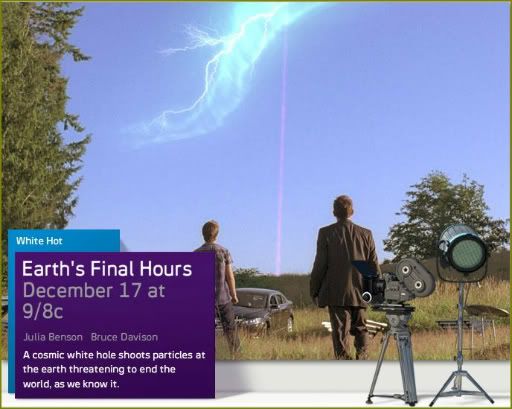 EARTH'S FINAL HOURS - SYFY VIDEO: Sneak Peek # 2 - What Is That? - Premieres Saturday, December 17, 2011 at 9/8C
Watch a sneak peek from the next upcoming Syfy Original Movie "Earth's Final Hours." Premieres Saturday December 17th 9/8C.
When a super-dense fragment of an interstellar mass punches through the Earth's core, the impact slows down the globe's rotation threatening the world with total destruction. Tech wiz, Jenna Simms, sees an unmistakable pattern correlating to fluctuations in the Earth's magnetic field that will inevitably culminate in the Earth suddenly standing still.
The effects of which will not only divide the planet into searing heat and extreme cold but will also wipe out the land masses as the still moving atmosphere will sweep away anything not anchored to bedrock. Will this be Earth's final hours?
Cast includes
Stargate Universe's
Julia Benson, Hamza Adam, Cameron Bright, Roark Critchlow, Bruce Davison, Hiro Kanagawa, Robert Knepper, Michael Kopsa, Julia Maxwell, Gardiner Millar, David Richmond-Peck and Alex Zahara.