Source: Syfy
schedulebot
COUNTDOWN TO CHRISTMAS WEEK - SYFY: BEGINS SUNDAY, DECEMBER 4, 2011 WITH NEVERLAND AT 9/8
c
10:00 AM
Raiders Of The Lost Ark
Indiana Jones is assigned to find the mystically empowered Ark of the Covenant before the Nazis can obtain it for their own evil use.
Cast includes Harrison Ford, Karen Allen, Paul Freeman, Ronald Lacey, John Rhys-Davies, Denholm Elliott, Alfred Molina and Wolf Kahler.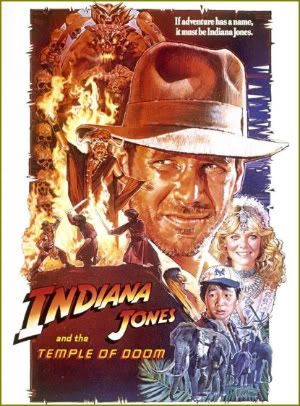 12:30 PM
Indiana Jones And The Temple Of Doom
Harrison Ford
gets help from a feisty heroine (
Kate Capshaw
) and a sawed-off sidekick (
Ke Huy Quan
) in this "
Raiders
" prequel featuring a sacred jewel, a bloodthirsty cult, human sacrifices, runaway mining cars, a chamber of scorpions and a perilous bridge.
Cast includes Harrison Ford, Kate Capshaw, Jonathan Ke Quan, Amrish Puri, Roshan Seth, Philip Stone, Roy Chiao and David Yip.
03:00 PM
Indiana Jones And The Last Crusade
Fedora and whip at the ready, Indiana Jones (
Harrison Ford
) sets off on his third cinematic outing accompanied by none other than his father, Henry (
Sean Connery
), to explore the cradle of civilization on a perilous hunt for the Holy Grail. The Nazis are also after the powerful relic, but no one is what they seem in this rousing quest for everlasting life.
Cast includes Harrison Ford, Sean Connery, Denholm Elliott, Alison Doody, John Rhys-Davies, Julian Glover, River Phoenix, Michael Byrne, Kevork Malikyan, Robert Eddison, Richard Young and Alexei Sayle.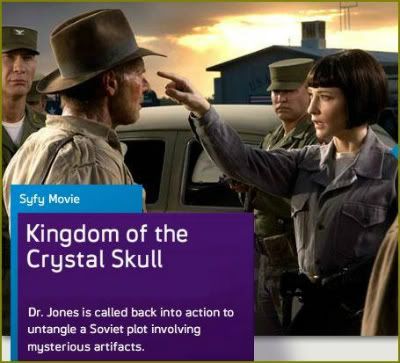 06:00 PM
Indiana Jones And The Kingdom Of The Crystal Skull
Indiana Jones (
Harrison Ford
) gets a cold war-era update in this fan-friendly pastiche of 1950s preoccupations and paranoia. His mission: rescuing an old friend who has vanished after discovering a strange artifact that could hold the key to world domination. Old friends, including hard-drinking ex-love Marion Ravenwood (
Karen Allen
), new enemies like Russian she-wolf Irina Spalko (
Cate Blanchett
) and spectacular action sequences abound.
Cast includes Harrison Ford, Cate Blanchett, Karen Allen, Shia LaBeouf, Ray Winstone, John Hurt, Jim Broadbent and Alan Dale.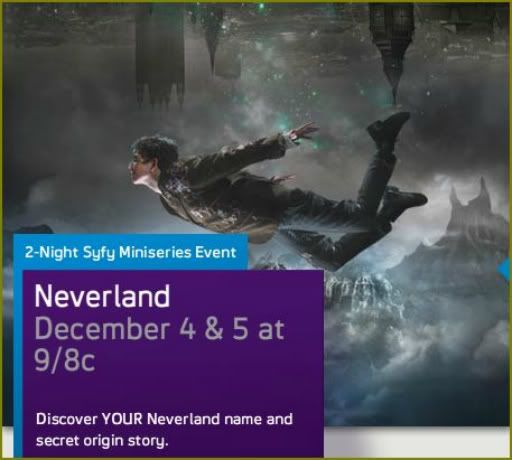 09:00 PM
Neverland, Part One
-
Mini-series Premiere!
A gang of young pickpockets snatches a magical orb that transports them into a fantastical realm in the debut of the miniseries set before Peter Pan met Wendy and Hook became a captain.
Cast includes
Rhys Ifans
as James Hook,
Anna Friel
as Captain Elizabeth Bonny,
Charles Dance
,
Q'orianka Kilcher
,
Charlie Rowe
as Peter Pan,
Bob Hoskins
,
Keira Knightley
(the voice of Tinker Bell) and
Raoul Trujillo
. Written and directed by
Nick Willing
("
Tin Man
," and "
Alice
").
11:00 PM
Neverland, Part One
01:00 AM
Neverland, Part One
03:00 AM
Gryphon
(also known as: Attack of the Gryphon)
Jonathan LaPaglia
and
Amber Benson
star in this fantasy tale about a prince and a princess who unite to battle a flying monster conjured by a scheming wizard.
Cast includes Jonathan LaPaglia, Larry Drake, Amber Benson, Andrew Pleavin, Douglas Roberts, Ashley Artus and Sarah Douglas.