Source: Syfy
schedulebot

SANCTUARY - SYFY: DECEMBER 2011 SCHEDULE
NOTE: Updated December 24, 2011
Cast includes Amanda Tapping, Robin Dunne, Ryan Robbins, Christopher Heyerdahl and Agam Darshi.
Dec 2 10:00 PM
Chimera
(repeat of November 29 episode)
Dec 3 12:00 AM
Chimera
Dec 6 03:00 AM
Chimera
Dec 9 10:00 PM
Acolyte
Dec 10 12:00 AM
Acolyte
Kate Freelander resurfaces with a warning about a Hollow Earth plot against an above-ground target, and evidence suggests that Bigfoot may be involved in the attack.
Guest stars include Agam Darshi, Robert Lawrenson, Mig Macario and Brian Markinson.
Dec 16 10:00 PM
The Depths
Dec 17 12:00 AM
The Depths
A quest to capture a legendary Abnormal in Bolivia leaves Will and Magnus injured and trapped in a cave-in, where they confront truths about themselves and their relationship; Henry records video letters to a special someone while working on an invention.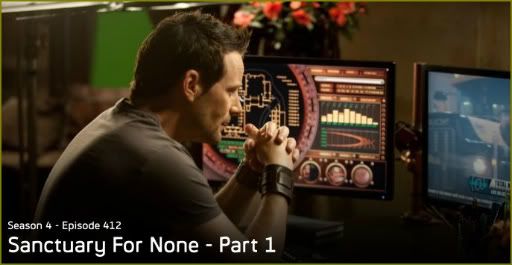 Dec 23 10:00 PM
Sanctuary For None - Part 1
Dec 24 12:00 AM
Sanctuary For None - Part 1
Caleb (
Gil Bellows
) asks Magnus to help broker a peace deal between his insurgents and the governments on the surface; Addison (
Brian Markinson
) reactivates Will's federal commission; Tesla (
Jonathon Young
) resurfaces.
Guest stars include Brian Markinson, Venus Terzo, Carlo Rota, Pascale Hutton, Jonathon Young and Gil Bellows.
Dec 27 03:00 AM
Sanctuary For None - Part 1
DECEMBER 30 - MARATHON
08:30 AM
Untouchable
09:30 AM
Monsoon
10:30 AM
Resistance
11:30 AM
Homecoming
12:30 PM
Icebreaker
01:30 PM
Fugue
02:30 PM
Chimera
03:30 PM
Acolyte
04:30 PM
The Depths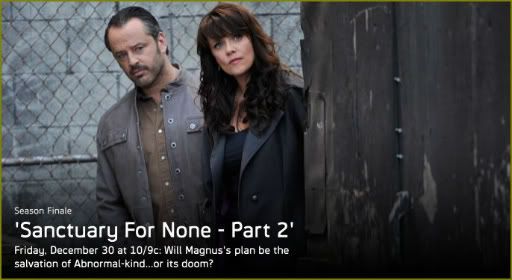 10:00 PM
Sanctuary For None - Part 2
-
Season Four Finale!
Henry and Tesla learn that the SCIU weaponized Tesla's work to use against Abnormals; Bigfoot and Kate investigate Caleb's rise to power while Will and Abby look into Magnus' past in the Season 4 finale.
Guest stars include Gil Bellows, Brian Markinson, Jonathon Young, Pascale Hutton and Agam Darshi.
11:00 PM
Sanctuary For None - Part 1
12:00 AM
Sanctuary For None - Part 2