Source:
Joe Flanigan Info
[follow link for complete interview]

STARGATE ATLANTIS - FRINGE - JOE FLANIGAN INFO: Joe Flanigan Interview - Part 1
October 8, 2011
At the Entertainment Media Show in London, FlanInfo was lucky enough to have a representative who sat with
Joe Flanigan
through several questions that finally made up for an exclusive interview. The discussion covered his most recent project, the next one, how was it working with
Jean Claude Van Damm
e, how does the industry go and how he sees his profession. All in all we've got some interesting insights about what makes the actor
Joe Flanigan
tick.
This is part 1 of the interview, part 2 in a later post...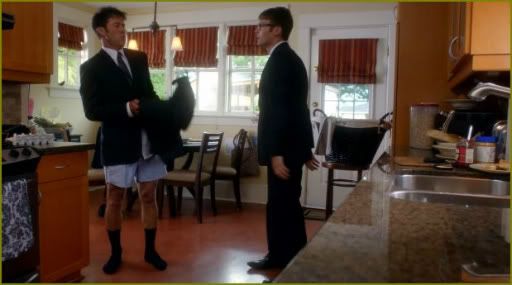 Joe Flanigan and Seth Gabel from Fringe's 'Neither Here Nor There' episode
...
Q: FlanInfo: Was 6 Bullets a good project?
JF
: "
I would say it was a really great experience. Basically, the way I do these things now, it's based on the role. I look at the role. Do I like the role? Is that a role that I want to play? And then the second question would be who else is in it, and who else is supporting the movie? I used to not look to things that way, I used to go for the most interesting project as a whole, but I don't think that's the right approach, as an actor.

This character was really interesting, as he's the ex-world champion mixed martial artist who's trying to stage a come-back and he brings his wife and daughter to Moldova to talk with this promoter and stage a come-back fight. And his daughter gets kidnapped and there's a prostitution ring. Then I get Van Damme to help me get her back and I team up with him in the end and we get to kill a lot of people. Act macho! It was fun...
"
Joe Flanigan from Fringe's 'Neither Here Nor There' episode