Source: Syfy
schedulebot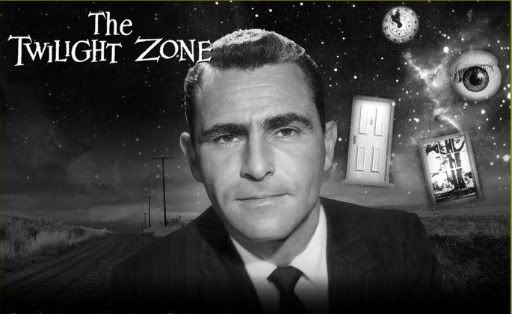 SYFY: THE TWILIGHT ZONE MARATHON TUESDAY, SEPTEMBER 13, 2011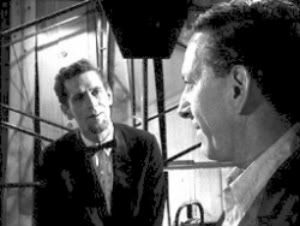 John Anderson and Jack Klugman
08:00 AM
A Passage For Trumpet
Jack Klugman
plays a washed-up trumpet player who's offered a second chance after a suicide attempt.
Cast includes Jack Klugman, John Anderson, Frank Wolff, Mary Webster, James Flavin and Ned Glass.
Jack Warden, Abraham Sofaer, and Robert Sorrells
08:30 AM
The Mighty Casey
A robot pitcher (
Robert Sorrells
) is the answer to a baseball manager's dreams.
Cast includes Jack Warden, Abraham Sofaer, Robert Sorrells, Alan Dexter, Don Kelly, Jonathan Hole and Rusty Lane.
John Larch and Thomas Gomez
09:00 AM
Dust
On the day his son is to be hanged, a father buys "magic dust" from a peddler who claims it will save his son.
Cast includes Thomas Gomez, John Larch, Vladimir Sokoloff, John A. Alonzo, Paul Genge, Dorothy Adams, Duane Grey, Jon Lormer, Andrea Darvi and Doug Heyes Jr.
Russell Johnson
09:30 AM
Back There
Russell Johnson
("
Gilligan's Island
") plays a modern man suddenly transported to the date of Lincoln's assassination.
Cast includes Russell Johnson, Paul Hartman, Bartlett Robinson, John Lasell, Jimmy Lydon, Raymond Bailey, Raymond Greenleaf, John Eldredge, James Gavin, Jean Inness, Lew Brown and Pat O'Malley.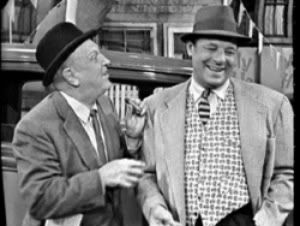 George Chandler and Jack Carson
10:00 AM
The Whole Truth
A used-car dealer can't tell a lie after buying a jalopy from an old man who claims it's haunted.
Cast includes Jack Carson, Loring Smith, George Chandler, Jack Ging, Arte Johnson, Patrick Westwood, Lee Sabinson and Nan Peterson.
Shelley Berman
10:30 AM
The Mind And The Matter
Shelley Berman
plays a man who's fed up with society and uses mind power to effect changes, which bring second thoughts.
Cast includes Shelley Berman, Jack Grinnage and Chet Stratton.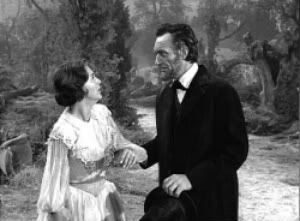 Joanne Linville and Austin Green
11:00 AM
The Passersby
In the aftermath of the Civil War, a wounded Confederate soldier (
James Gregory
) meets an aristocrat unsure of her husband's fate.
Cast includes James Gregory, Joanne Linville, Rex Holman, David Garcia, Warren J. Kemmerling and Austin Green.
Peter Falk
11:30 AM
The Mirror
A deposed dictator warns his successor (
Peter Falk
) that the faces of his enemies will appear in the palace mirror.
Cast includes Peter Falk, Will Kuluva, Antony Carbone, Arthur Batanides, Rodolfo Hoyos Jr., Vladimir Sokoloff and Richard Karlan.
Lee Marvin
12:00 PM
The Grave
A dying outlaw vows revenge from the grave against the gunman (
Lee Marvin
) who had pursued him.
Cast includes Lee Marvin, James Best, Strother Martin, Elen Willard, Lee Van Cleef, William Challee, Stafford Repp, Larry Johns and Dick Geary.
Hazel Court and Peter Mark Richman
12:30 PM
The Fear
A state trooper responds to a secluded woman's reports of lights in the sky, and more strange incidents follow.
Cast includes Peter Mark Richman and Hazel Court.
John Hoyt and Inger Stevens
01:00 PM
The Lateness Of The Hour
A young woman (
Inger Stevens
) grows weary of the servants, all robots built by her father (
John Hoyt
).
Cast includes Inger Stevens, John Hoyt, Irene Tedrow, Tom Palmer, Mary Gregory, Valley Keene, Doris Karnes and Jason Johnson.
Adam Williams, Fred Clark and Jean Carson
01:30 PM
A Most Unusual Camera
Thieves find their latest heist includes a camera that snaps pictures of the future.
Cast includes Fred Clark, Jean Carson, Adam Williams and Marcel Hillaire.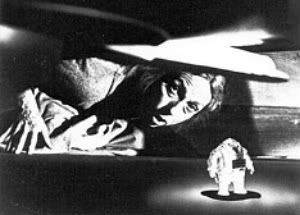 Agnes Moorehead
02:00 PM
The Invaders
-
Superb episode!
There is no dialogue in this story of a rural woman (
Agnes Moorehead
) who battles to repel two creatures from another planet.
Cast includes Agnes Moorehead.
Sandy Kenyon, Paul Comi and John Anderson
02:30 PM
The Odyssey Of Flight 33
After a freak acceleration through the sound barrier, a passenger-flight crew loses all radio contact.
Cast includes John Anderson, Paul Comi, Sandy Kenyon, Wayne Heffley, Harp McGuire, Betty Garde, Beverly Brown, Nancy Rennick, Jay Overholts and Lester Fletcher.
Dane Clark and Buddy Ebsen
03:00 PM
The Prime Mover
A pre-"
Beverly Hillbillies
"
Buddy Ebsen
plays a gentle man whose telekinetic powers are abused by his greedy partner (
Dane Clark
).
Cast includes Dane Clark, Buddy Ebsen, Christine White, Nesdon Booth, Clancy Cooper and Jane Burgess.
Cliff Robertson
03:30 PM
A Hundred Yards Over The Rim
Cliff Robertson
stars as an exhausted 1847 westward pioneer whose scouting ahead takes him into the 20th century.
Cast includes Cliff Robertson, John Crawford, Evans Evans, Edward Platt, Miranda Jones, Ken Drake, Robert McCord, Jennifer Bunker and John Astin.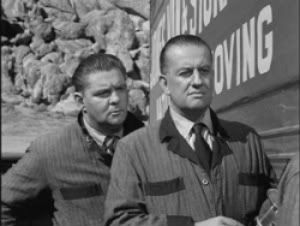 Lew Gallo and Oscar Beregi, Jr.
04:00 PM
The Rip Van Winkle Caper
Thieves emerge from suspended animation to spend the gold they pilfered 100 years before.
Cast includes Simon Oakland, Oscar Beregi Jr., Lew Gallo, John Mitchum, Wallace Rooney and Shirley O'Hara.