Source:
GateWorld
[follow link for complete interview]

GATEWORLD: Conversations with a Gentleman Farmer
by
Chad Colvin
Thursday - September 15, 2011
Life after
Stargate Atlantis
and the character of John Sheppard continues to be good for
Joe Flanigan
. The actor — most recently seen in April on Syfy in the film
Ferocious Planet
— is in a good place, with the ability to pick and choose the projects he wants to do based on their merits while also spending more time with his family.
GateWorld had the chance to sit down with the actor for a period and chat with him about all things Joe during his time on the
Creation Entertainment
Official Stargate Convention tour. And as always, he doesn't hold back. In our time with him, Flanigan discusses some of his latest television and movie projects and fills us in on the serious injury he suffered earlier this year...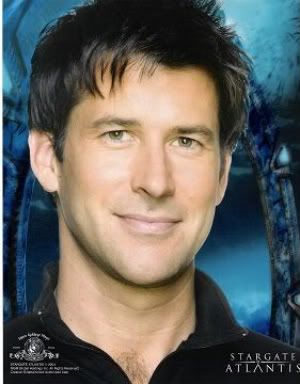 ...
GW: Ferocious Planet aired on Syfy this spring. Did you enjoy the shoot?
JF
:
I had such a good time on that shoot. We shot it in Ireland and, you know, what's a Flanigan to do in Ireland? Enjoy himself. I had an incredible time. We had a really great cast and crew. There are rules in Ireland, you can only shoot 10 hours a day — which can lead to all sorts of problems, but also leaves you this incredibly civilized shooting schedule. Which gives you more time for the pubs.

For better or worse, Atlantis was pretty popular over there, so just getting from the point of getting out of my taxi to the hotel, there's like a two or three block area that you can't drive cars through and just walking those two or three blocks with the pubs, I would get stopped all the time. "Oh, for Christ sakes, it's Colonel John Sheppard! Come here, give him a beer!" Everybody's buying me beers! It was like the gauntlet, I couldn't get to the hotel. And I'm not somebody to turn down a free beer...
[Laughs]