Source: Syfy
schedulebot
SYFY: FANTASY FLICKS MARATHON SUNDAY, AUGUST 7, 2011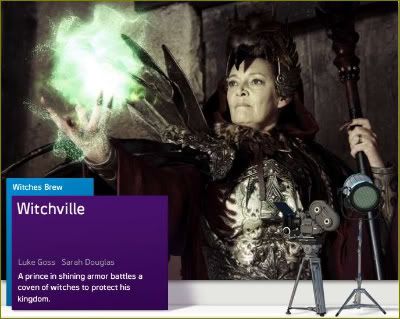 09:30 AM
Witchville
A prince returns home and finds that his father is dead and the kingdom has been overrun by witches.
Cast includes Luke Goss, Ed Speleers, Andrew Pleavin, Simon Thorp, Sarah Douglas, MyAnna Buring and Ian Virgo.
11:30 AM
Dragon Sword
A knight returning from the Crusades takes on a dragon and becomes a legend.
Cast includes James Purefoy, Patrick Swayze, Michael Clarke Duncan, Bill Treacher and
Covert Affair's
Piper Perabo.
01:30 PM
Fire And Ice
An ice dragon is summoned to save a kingdom from a fire dragon in this fantasy tale.
Cast includes Amy Acker, Tom Wisdom, John Rhys-Davies, Arnold Vosloo, Razvan Vasilescu, Oana Pellea, Cabral Ibacka and Ovidiu Niculescu.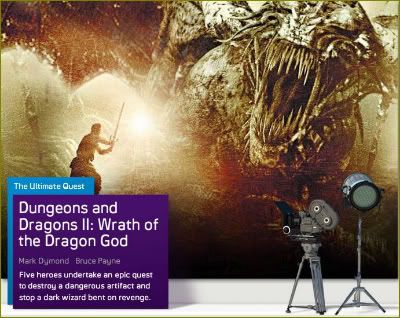 03:30 PM
Dungeons & Dragons: Wrath Of The Dragon God
Five heroic individuals attempt to halt the rise to power of a dragon god and an evil sorcerer.
Cast includes Bruce Payne, Mark Dymond, Clemency Burton-Hill, Ellie Chidzey, Tim Stern, Steven Elder and Lucy Gaskell.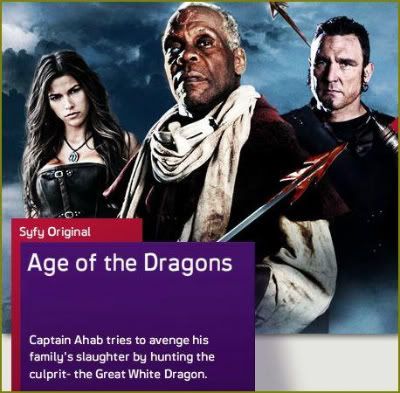 06:00 PM
Age of the Dragons
Danny Glover
stars as an obsessed Ahab who seeks revenge on the fire-breathing dragon that killed his family and left him horribly scarred in this re-imagining of the classic novel "
Moby Dick
."
Cast includes Danny Glover, Vinnie Jones, Corey Sevier, Sofia Pernas, Larry Bagby, Kepa Kruse and David Morgan.
You Cannot Leave - Age of Dragons
Watch a sneak peek from the Syfy Original Movie "Age of Dragons."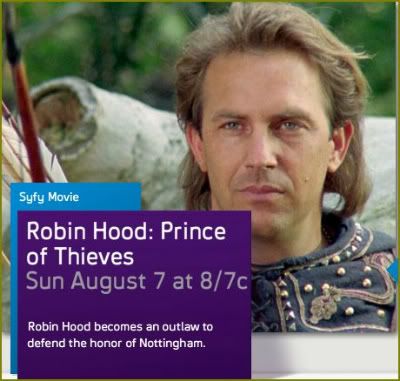 08:00 PM
Robin Hood: Prince Of Thieves
Kevin Costner
plays Sherwood Forest's straight arrow, battling the Sheriff of Nottingham (
Alan Rickman
).
Cast includes Kevin Costner, Morgan Freeman, Mary Elizabeth Mastrantonio, Christian Slater, Alan Rickman, Geraldine McEwan, Michael McShane, Brian Blessed and Michael Wincott.
11:00 PM
Beyond Sherwood Forest
Robin Hood (
Robin Dunne
) must find a cure for a woman cursed to turn into a murderous beast during the daytime, as well as keep Maid Marian (
Erica Durance
) safe from harm.
Cast includes
Sanctuary's
Robin Dunne,
Smallville's
Erica Durance, Julian Sands, Katharine Isabelle, Mark Gibbon, Cainan Wiebe, Richard de Klerk, Bill Dow, Brent Stait, John Novak, Robert Lawrenson, David Richmond-Peck, Paul Lazenby and David Palffy.
01:00 AM
Merlin - Part One
The legendary wizard tells his story of his war against Queen Mab of the Sidhe and his creation of Camelot.
Cast includes Sam Neill, Helena Bonham Carter, John Gielgud, Rutger Hauer, James Earl Jones, Miranda Richardson, Isabella Rossellini, Martin Short, Paul Curran, Lena Headey, Jeremy Sheffield, Mark Jax, John McEnery and Sebastian Roché.
03:00 AM
Merlin - Part Two