STARGATE TV SCHEDULE WEEK AUGUST 8, 2011:
[NOTE: High Definition channels not listed on this schedule. Please confirm with your local listings for correct times.]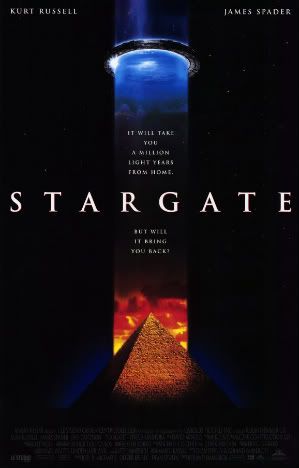 STARGATE
The Original Movie (1994)
Cast includes Kurt Russell, James Spader, Alexis Cruz, Viveca Lindfors, Mili Avital, John Diehl, Leon Rippy, Djimon Hounsou, Erick Avari and French Stewart.
Mon. Aug. 8 4:15 AM
5MAX
Tue. Aug. 9 8:20 PM
ACMAX
Fri. Aug. 12 10:10 AM
ATMAX
Sat. Aug. 13 6:35 AM
MAX
Sun. Aug. 14 11:00 AM
ACMAX

STARGATE SG-1
(please check local listings to confirm Showtime time slot)
Cast includes Richard Dean Anderson, Amanda Tapping, Christopher Judge, Michael Shanks, Don S. Davis, Teryl Rothery, Corin Nemec, Ben Browder, Claudia Black and Beau Bridges.
SYFY
Wed. Aug. 10 1:00 AM
Nightwalkers
The SG-1 team investigates a sleepy seaside town whose residents harbor an insidious secret.
Guest stars include Blu Mankuma, Vincent Gale, Peter Anderson and Adrian Holmes.
Wed. Aug. 10 5:00 PM
Frozen
O'Neill and his team are stranded at a research station in the Antarctic along with an enigmatic young woman they discovered frozen in the ice.
Guest stars include Venus Terzo, Bruce Harwood, Paul Perri, Dorian Harewood, Ona Grauer and Teryl Rothery.
Thur. Aug. 11 1:00 AM
Frozen
Thur. Aug. 11 5:00 PM
Shadow Play
Quinn's former mentor (
Dean Stockwell
) enlists his help for a scheme to overthrow the Kelowna government in an attempt to bring peace to their war-torn planet.
Guest stars include Dean Stockwell, Joel Swetow, Doug Abrahams, Gillian Barber and Teryl Rothery.
Fri. Aug. 12 1:00 AM
Shadow Play
SHOWTIME BEYOND
Sat. Aug. 13 8:00 PM
Between Two Fires
O'Neill is suspicious when the Tollans decide to share some of their weapons technology with the Stargate crew.
Guest stars include Garwin Sanford, Marie Stillin, Peter Wingfield and Ryan Silverman.
Sat. Aug. 13 8:45 PM
2001
In a prequel to the episode titled "
2010
," the crew meets an alien race that appears to be too good to be true.
Guest stars include Christopher Cousins, Dion Luther, Robert Moloney, Ronny Cox, Howard Siegel and Rob Lee.
Sun. Aug. 14 10:00 AM
Between Two Fires
Sun. Aug. 14 10:45 AM
2001

STARGATE ATLANTIS
Cast includes Joe Flanigan, David Hewlett, Rainbow Sun Francks, Rachell Luttrell, Torri Higginson, Paul McGillion, Jason Momoa, David Nykl, Robert Picardo and Amanda Tapping.
UHD
Mon. Aug. 8 5:00 PM
Tabula Rasa
Mon. Aug. 8 8:00 PM
Tabula Rasa
The crew suffers from amnesia after plant samples from their new home planet unleash a virus that affects everyone except Teyla and Ronon.
Guest stars include David Nykl, Kavan Smith, Brenda James, Zach Selwyn,
Eureka's
Niall Matter, Linda Ko, Joel Cottingham, Graem Beddoes, D. Harlan Cutshall and Robert Clark.
SYFY
Wed. Aug. 10 2:00 AM
Vengeance
The team encounters an old enemy while searching for one of their allies, and uncovers a plot to engineer a race of powerful monsters.
Cast includes Connor Trinneer, Chuck Campbell, Ryan Booth and Josh Blacker.
Thur. Aug. 11 2:00 AM
First Strike
The Apollo, a new Earth ship, arrives at Atlantis under the command of Col. Abe Ellis (
Michael Beach
), whose mission could start a war, and endanger the station in the process.
Guest stars include Michael Beach, Jewel Staite, Kavan Smith, David Nykl, David Ogden Stiers, Heather Doerksen, Donna Soares and Jay Williams.
Fri. Aug. 12 2:00 AM
Adrift
Season 4 begins as Dr. Weir clings to life and Dr. McKay tries to save Atlantis, which is badly damaged and lost in space after the Replicator attack.
Amanda Tapping
joins the cast.
Guest stars include Torri Higginson, Jewel Staite, David Nykl, Michael Beach, Bill Dow, Linda Ko, Yee Jee Tso and Gerry Durand.
Sat. Aug. 13 2:00 AM
Lifeline
McKay and Sheppard prepare to steal a ZPM from the Replicator home world; Col. Samantha Carter links up with the Apollo to search for Atlantis.
Guest stars include Torri Higginson, Michael Beach, David Nykl, Bill Dow, David Ogden Stiers and Sharon Taylor.
SYNDICATED
Weekend
August 13/14 -
Syndicated
(check local listings for channel and time) -
First Contact
Dr. Daniel Jackson (
Michael Shanks
) visits Atlantis and enlists Dr. McKay's help to find a hidden lab on the station. Meanwhile, the Daedalus hosts a Wraith delegation for talks concerning Dr. Keller's research.
Guest stars include
Stargate SG-1's
Michael Shanks, Mitch Pileggi, Christopher Heyerdahl, Martin Christopher, Sharon Taylor, Chuck Campbell and Tyler McClendon.
STARGATE UNIVERSE
Cast includes Robert Carlyle, Louis Ferreira, Brian J. Smith, Elyse Levesque, David Blue, Alaina Huffman, Jamil Walker Smith, Peter Kelamis, Patrick Gilmore, Julia Benson, Jennifer Spence, Ming-Na and Lou Diamond Phillips.
SYNDICATED
Weekend
August 13/14 -
Syndicated
(check local listings for channel and time) -
Sabotage
An expert in hyper drives, who has a past with Dr. Rush, arrives on the Destiny via the communication stones when it seems the ship will run out of power before it reaches its next destination, which would leave the crew adrift.
Guest stars include Kathleen Munroe, Mark Burgess, Reiko Aylesworth, Catherine Lough Haggquist, Haig Sutherland, Jeffrey Bowyer-Chapman, Michael Karl Richards and Vera Menoza-Cuadra.