Source:
Pittsburgh Post-Gazette
[follow link for complete interview]
TORCHWOOD: MIRACLE DAY - PITTSBURGH POST-GAZETTE: Patricia Sheridan's Breakfast With ... Bill Pullman
Monday, July 04, 2011
By
Patricia Sheridan
From "
Space Balls
" to "
Independence Day
" to his award-winning stage performance in "
Goat
," actor
Bill Pullman
has proven he can handle any role from super-silly to deadly serious. Most recently, he was in HBO's "
Too Big to Fail
" and has been cast as child killer Oswald Danes on Starz/BBC's "
Torchwood
," which begins Friday. The intriguing story line for the first episode, "
Miracle Day
," is about the day humans discover they can't die. You still get old and sick, but you can't die. Just another day at the office for the 58-year-old with leading-man good looks. He is married with three children -- the youngest just graduated from high school -- and spends time in Los Angeles and on his Montana ranch...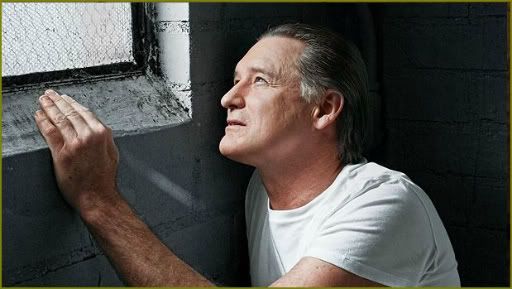 ...
Q: So what kind of field research do you do to play an unrepentant child killer who finds redemption through attention?
Bill Pullman
: [Laughing] "
For me it started with literature. One of the books that I thought was really seminal is this 1940s book by Dr. Hervey Cleckley called "Mask of Sanity." He is profiling different sociopathic and psychopathic behaviors. That was written in the 1940s. Then there are some books now about sexual predators and things like that. You come to some broad consensus about different patterns of behavior and that kind of thing. I observe people on YouTube videos who have been convicted of crimes or accused of crimes. So you start with that...
"
Torchwood: Miracle Day premieres in the US On Starz Friday, July 8, 2011 at 10/9C.