Source: Syfy
schedulebot
SYFY: Father's Day Evening Movie Marathon Sun Jun 19 '11
08:00 PM
Troy
A vigorous spin on the glorious excesses of classic sword-and-sandal epics,
Wolfgang Petersen's
stripped-down chronicle of the 10-year Trojan War is fatally undermined by golden boy
Brad Pitt's
reduction of legendary warrior Achilles to a sullen fame whore with to-die-for cheekbones.
Cast includes Julian Glover, Brian Cox, Brad Pitt, Brendan Gleeson, Diane Kruger, Eric Bana, Orlando Bloom,
Game of Thrones'
Sean Bean, Julie Christie, Peter O'Toole,
The Mentalist's
Owain Yeoman and Saffron Burrows.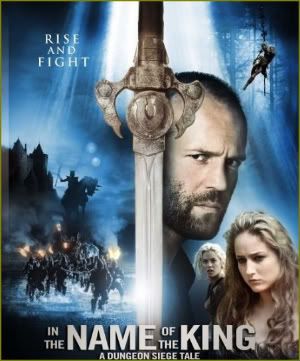 11:00 PM
In The Name Of The King: A Dungeon Siege Tale
Inconsistent accents, anachronistic performances and low-rent special effects abound in this medieval fantasy, which pits action star
Jason Statham
against armor-clad monster warriors, a wicked wizard and scantily-clad, man-hating wood sprites.
Cast includes Jason Statham, Leelee Sobieski, John Rhys-Davies, Ron Perlman, Claire Forlani, Kristanna Loken, Matthew Lillard, Mike Dopud, Ray Liotta and Burt Reynolds.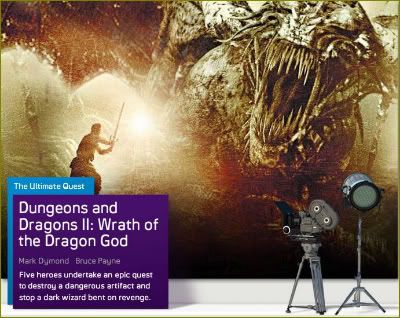 01:30 AM
Dungeons & Dragons: Wrath Of The Dragon God
Five heroic individuals attempt to halt the rise to power of a dragon god and an evil sorcerer.
Cast includes Bruce Payne, Mark Dymond, Clemency Burton-Hill, Ellie Chidzey, Tim Stern, Steven Elder and Lucy Gaskell.