Source:
MSN TV
[follow link for complete column]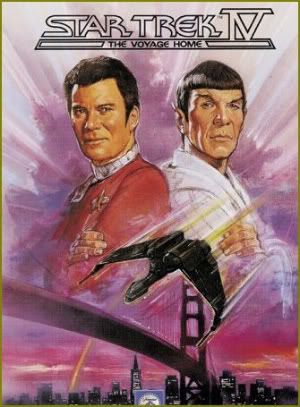 MSN TV: Tonight's Picks Saturday, May 28, 2011
...
Star Trek IV: The Voyage Home
6:30 PM, SYFY
The
Enterprise
crew journeys back to the 1980s to save a pair of humpback whales, preventing the extinction of the species and saving the Earth.
Leonard Nimoy
directed this 1986 big-screen "
Trek
" outing filled with priceless comic moments. Among them: Scotty's (
James Doohan
) encounter with a 20th-century computer and Kirk's (
William Shatner
) attempt to explain the oddly behaving Spock (Nimoy) as a burned-out druggie from the '60s.
Catherine Hicks
also stars.
Click
here
for a schedule of the Syfy May 28, 2011 Star Trek movie marathon.