Source:
Entertainment Weekly
[follow link for complete column]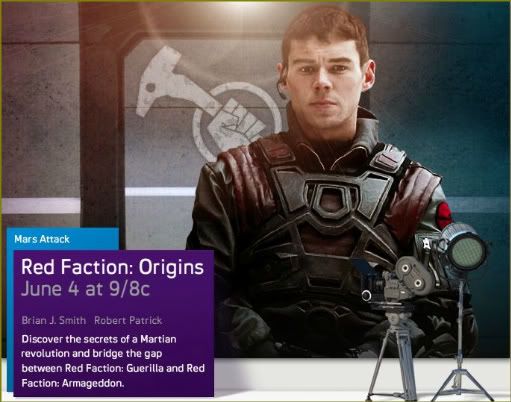 ENTERTAINMENT WEEKLY: Tonight's Best TV Saturday, June 4, 2011
A Daily Guide To Notable Shows
...
Red Faction: Origins
9-11 PM SYFY
Red Faction: Origins
is both a Syfy original movie and a movie based on a videogame, so expectations really could be lower only if it were also directed by schlockmeister
Uwe Boll
. But instead it's helmed by
Michael Nankin
, responsible for many episodes of
Battlestar Galactica
, and he certainly tries to employ here what he learned on that show. It's definitely not at that level, but with significantly higher production values and better acting (including from T-1000
Robert Patrick
) than the vast majority of Syfy ventures, it easily steps up and over a bar that's set so very, very low.
B-
—
Keith Staskiewicz
Source:
Syfy
You Tube channel -
Red Faction: Origins Movie Trailer