Source: Syfy
schedulebot
WAREHOUSE 13 - SYFY: Season 2 Mother's Day Evening Marathon Sunday, May 8, 2011
Cast includes Eddie McClintock, Joanne Kelly, Saul Rubinek, Genelle Williams, Allison Scagliotti and CCH Pounder.
07:00 PM
Beyond Our Control
Gladiators, cowboys, sci-fi robots and beach-storming marines are unleashed after an artifact arrives in the next town instead of the warehouse, and the team turns to the inventor of television to make things right.
Guest stars include Paula Garcés, Nolan Gerard Funk, Mark Sheppard,
Camelot's
Philip Winchester, Kyra Harper, Dwight Ireland and Jean Yoon.
08:00 PM
Age Before Beauty
Myka and Pete go undercover to infiltrate the fashion world after young models age 50 years overnight.
Guest stars include Tawny Cypress, Phillip Rhys, Nolan Gerard Funk, Salvatore Antonio, Natalie Krill, Robin Kasyanov, Erica Cox and Shauna MacDonald.
09:00 PM
13.1
Douglas Fargo leaves
Eureka
for a trip to Warehouse 13 to update the facility's computer system, which doesn't go as planned.
Rene Auberjonois
("
Star Trek: Deep Space Nine
") guest stars.
Guest stars include Neil Grayston, Nolan Gerard Funk, Rene Auberjonois, Paula Garcés and Zack Ward.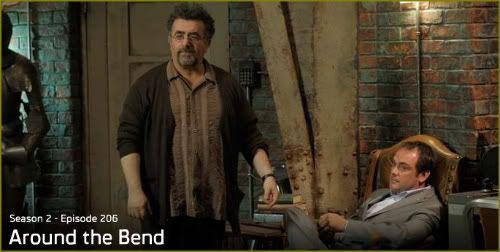 10:00 PM
Around The Bend
Pete has a secret assignment, and runs into a former flame (Tia Carrere), which may result in him betraying the team.
Guest stars include Tia Carrere, Mark Sheppard, J.P. Manoux, Andrew Hinkson and Ted Ludzik.
11:00 PM
For The Team
An old foe helps Myka and Claudia investigate strange deaths on a college wrestling team, and Peter has to seek medical assistance from an unwilling source when Artie falls ill.
Guest stars include
Spartacus: Gods of the Arena's
Jaime Murray, Paula Garcés,
Six Million Dollar Woman's
Lindsay Wagner, Kamiran Aldabbagh, Christian Campbell, Robert Clark, Hamish McEwan and Scott Wickware.
12:00 AM
Merge With Caution
Myka attends her high-school reunion while Pete enjoys some time with his girlfriend, but an artifact upsets their plans to enjoy a normal weekend, and Artie and Claudia take on a mission of their own.
Guest stars include Paula Garcés, Laura Harris, Cody Runnels, Desmond Campbell, Caden Douglas, Gary Douglas, Paul Essiembre and Tig Fong.
01:00 AM
Vendetta
The team seeks a murderer in Russia who is using artifacts from Artie's past to kill, but H.G.'s offer to help complicates matters. Meanwhile, Claudia snoops into Todd's past and uncovers some disturbing information.
Guest stars include Tia Carrere, Nolan Gerard Funk, Simon Reynolds, Faran Tahir, Jaime Murray, Richard Alan Campbell and Gary Krawford.
02:00 AM
Where And When
Pete and Myka travel to 1961 via H.G. Wells' time machine to stop a killer who is turning women into glass.
Guest stars include Roberta Maxwell, Jaime Murray, Armin Shimerman, David Anders and Tricia Braun.
03:00 AM
Buried
A mysterious illness imperils Mrs. Frederic, and Pete, Myka and H.G. go to Egypt's Warehouse 2 in a bid to save her. Meanwhile, Claudia faces the truth about her future at Warehouse 13.
Guest stars include Jaime Murray, Paula Garcés, Mark Sheppard, Lindsay Wagner and Allen Altman.
04:00 AM
Reset
The team chases after an artifact that is more dangerous than they originally thought; Pete's feelings for Kelly are put to the test; Claudia talks to Artie about her future, in the second-season finale.
Guest stars include Jaime Murray, Faran Tahir, Paula Garcés and Allen Altman.