Source: Syfy
schedulebot
SYFY: March 11 Star Trek Marathon

08:30 AM
Star Trek Enterprise
Unexpected
After discovering the presence of a damaged alien vessel, Archer dispatches Trip to its aid, but the engineer's encounter with a Xyrillian female has an unexpected side effect.
Guest stars include Julianne Christie, Christopher Darga, Randy Oglesby, Regi Davis and T.L. Kolman.
09:30 AM
Star Trek Enterprise
Terra Nova
Archer's determination to solve the mystery of Terra Nova, a legendary lost deep-space colony, leads to a tense encounter with a tribe of human-hating cave-dwellers.
Guest stars include Erick Avari, Mary Carver, Brian Jacobs and Greville Henwood.
10:30 AM
Star Trek Enterprise
The Andorian Incident
Archer's curiosity about an ancient monastery unwittingly places his crew in the midst of a long-standing interstellar conflict between the Vulcans and their arch rivals, the Andorians.
Guest stars include Jeffrey Combs, Bruce French, Steven Dennis, Jeff Ricketts and Richard Tanner.
11:30 AM
Star Trek Enterprise
Breaking The Ice
Archer's probe of an unusual comet is disrupted by the sudden appearance of a Vulcan starship. The vessel is receiving coded messages from a guarded T'Pol (Jolene Blalock), who reluctantly takes Trip into her confidence after he learns the content of her communiqués.
Guest stars include William Utay.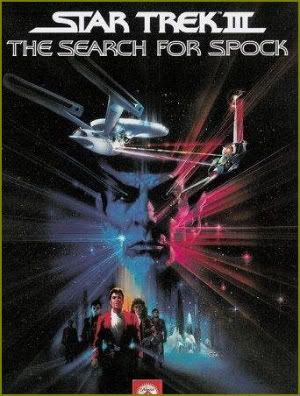 12:30 PM
Star Trek III: The Search For Spock
Star Trek
(original series movies) cast include William Shatner, Leonard Nimoy, DeForest Kelley, James Doohan, George Takei, Walter Koenig and Nichelle Nichols.
Kirk and his crew try to reunite Spock's mind and body.
Guest cast includes Christopher Lloyd, John Laroquette, Robin Curtis, Merritt Butrick, Phil Morris and Robert Hooks.
03:00 PM
Star Trek II: The Wrath Of Khan
To escape his desk job, Adm. James T. Kirk (William Shatner) returns to the USS Enterprise, assisting Spock (Leonard Nimoy) in a training mission for Starfleet cadets. But the inexperienced crew is put to the test when escaped villain Khan (Ricardo Montalban) steals a powerful weapon and comes after the admiral seeking revenge. Now, Kirk must use all his wiles and whip the cadets into shape if they hope to defeat Khan's deadly traps.
Guest cast includes Bibi Besch, Merritt Butrick, Jeff McBride, Paul Winfield, Kirstie Alley and Ricardo Montalban.
Star Trek: The Next Generation
(movie) cast include Patrick Stewart, Jonathan Frakes, Brent Spiner, LeVar Burton, Michael Dorn, Gates McFadden and Marina Sirtis.
05:30 PM
Star Trek: Generations
Capt. Kirk and Capt. Picard team up to thwart mad Dr. Soran's quest for the Nexus of joy.
Guest cast includes Malcolm McDowell, James Doohan, Walter Koenig, William Shatner, Alan Ruck, Tim Russ, Barbara March and Gwynyth Walsh.