Source:
Syfy schedulebot
Snakes. Why'd it have to be snakes? (Indiana Jones)
SYFY SATURDAY SNAKE SLITHERTHON - February 19, 2011
09:00 AM
Copperhead
A mass of copperhead snakes besiege an old mining town in the West.
Starring Brad Johnson, Keith Stone, Brad Greenquist, Wendy Carter, Gabriel Womack and Billy Drago.
Always carry a flagon of whiskey in case of snakebite and furthermore always carry a small snake. (W. C. Fields)
11:00 AM
Basilisk: The Serpent King
Two millennia ago, a Lybian king has a basilisk (snake-shaped dragon), which petrifies people, subjected to the same fate with a golden scepter during a solar eclipse. Both these and several victims are dug up by modern archaeologist Harrison 'Harry' McColl's expedition. Despite a cryptic warning from tribal locals, everything goes to his Colorado university's museum. It's all exhibited during another eclipse, which leads to the monster reviving. Harry and some of his friends must try to petrify the monster again.
Starring Jeremy London, Wendy Carter, Cleavant Derricks, Griff Furst, Sarah Skeeters, Stephen Furst and Yancy Butler.
If you see a snake, just kill it - don't appoint a committee on snakes. (Ross Perot)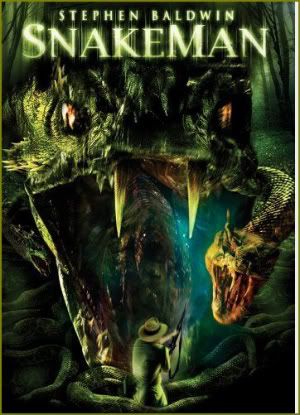 01:00 PM
Snake King
An object is found that points to the secret of eternal youth so a research team is sent to find the fountain only to find it is protected by a giant snake.
Starring Stephen Baldwin, Jayne Heitmeyer, Larry Day, Gary Hudson and Ross McCall.
Never wound a snake; kill it. (Harriet Tubman)
03:00 PM
Vipers
A set of vipers has been taken by the scientists, when the vipers escape into the woods, they do more than just bite.
Starring Tara Reid, Jonathan Scarfe, Mercedes McNab, Corbin Bernsen, Stephen E. Miller, Jessica Steen and Stargate SG-1's Don S. Davis.
Self-love for ever creeps out, like a snake, to sting anything which happens to stumble upon it. (George Byron)
05:00 PM
Boa Vs. Python
After an overly ambitious businessman transports an 80-foot python to the United States, the beast escapes and starts to leave behind a trail of human victims. An FBI agent and a snake specialist come up with a plot to combat the creature by pitting it against a bioengineered, 70-foot boa constrictor. It's two great snakes that snake great together!
Starring Stargate Atlantis' David Hewlett and Jaime Bergman, Kirk B.R. Woller, Adamo Palladino, Angel Boris Reed, Marianne Stanicheva and Griff Furst.
There's a snake lurking in the grass. (Virgil)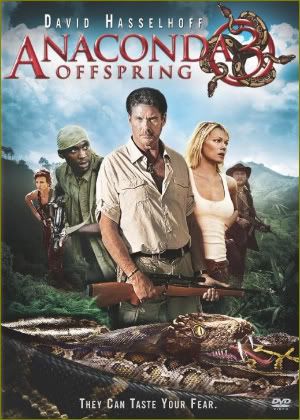 07:00 PM
Anaconda 3
A mercenary-for-hire accepts a mission from a billionaire to capture a dangerous snake that could possibly help cure a terminal illness.
Starring David Hasselhoff, Crystal Allen, Ryan McCluskey, Patrick Regis, Anthony Green and John Rhys-Davies.
You can't talk of the dangers of snake poisoning and not mention snakes. (C. Everett Koop)
09:00 PM
Anacondas: The Hunt For The Blood Orchid
A scientific expedition sets out for Borneo to seek a flower called the Blood Orchid, which could grant longer life. Meanwhile, they run afoul of snakes and each other.
Starring Johnny Messner, KaDee Strickland, Matthew Marsden, Nicholas Gonzalez, Eugene Byrd, Karl Yune, Eureka's Salli Richardson-Whitfield and V's Morris Chestnut.
Well, you're about to fall into the snake pit... what are you planning to wear? (Molly Brown/Titantic)
11:00 PM
Anacondas: Trail Of Blood
A genetically created Anaconda, cut in half, regenerates itself into two aggressive giant snakes, due to the Blood Orchid.
Starring Crystal Allen, Linden Ashby, Danny Midwinter, Ana Ularu, Claudiu Bleont, Anca-Ioana Androne and John Rhys-Davies.
The snake stood up for evil in the Garden. (Robert Frost)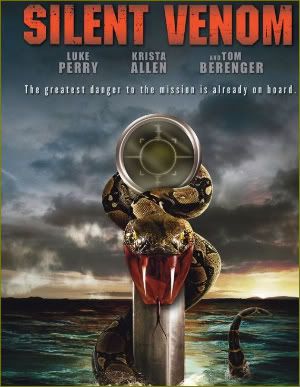 01:00 AM
Sea Snakes
[Also known as Silent Venom]
Deep in the jungle of a remote island in the Pacific lives a new breed of mutant snake. Dr. Andrea Swanson and her research assistant Jake have been studying the species in a top secret military experiment to develop the ultimate anti-toxin.
Starring Luke Perry, Krista Allen, Tom Berenger, Louis Mandylor, Anthony Tyler Quinn and John L. Curtis.
I have been told of a certain sea snake which has a very unusual method of attracting its prey. It will lie at the bottom of the ocean as if wounded. Then its enemies will approach, and yet it will lie quite still. And then its enemies will take little bites of it, and yet it remains still. (Gladiator)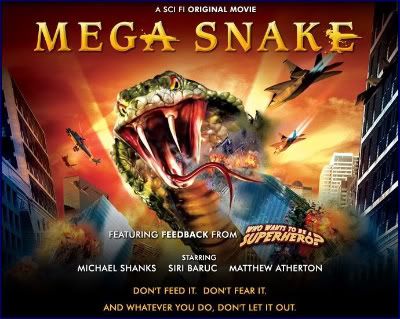 03:00 AM
Mega Snake
Because his father was killed by a poisonous snake bite, Les Daniels has a deadly fear of snakes. Chaos ensues when Les' brother accidentally unleashes a rare, extremely deadly mythical snake. The snake escapes into Les' small town and begins to grow at a terrifying rate. Now Les must overcome his paralyzing fear to help protect his small town against the growing, deadly Mega Snake, which is devouring anything in its path.
Don't let the snake out of the jar, then don't let the snake eat anything living, and never fear the heart of the snake.
Starring Stargate SG-1's Michael Shanks and Siri Baruc, Michal Yannai, Ben Cardinal and John T. Woods.