Source: Syfy
schedulebot
SYFY: Fantasy Day Movie Marathon Wednesday, March 2, 2011
\
Experience a world of enchantment. Tune in for a full day of illusion sponsored by
RIFT
, an MMO adventure.
08:00 AM
Alien Siege
Low-budget chiller pits a band of Earth rebels against dying aliens whose only chance of survival is to develop a serum from human beings.
Cast includes Brad Johnson, Erin Ross, Lilas Lane, Nathan Anderson, Michael Cory Davis and Gregor Paslawsky.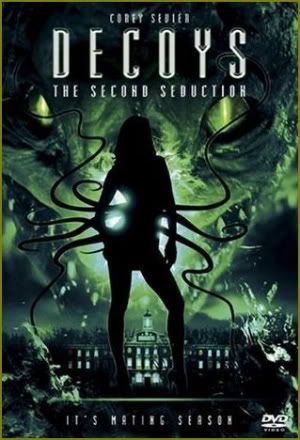 10:00 AM
Decoys 2: Alien Seduction
Sam, a college student in a small Northwestern town, reluctantly joins his roommates in a contest to see who can hook up with the most gorgeous co-eds by the end of the semester. But when men slowly start disappearing around town, he and his friends learn that when it comes to beautiful women, it's what's inside that really matters.
Cast includes Corey Sevier, Tyler Johnston, Kailin See, Kim Poirier, Dina Meyer and Tobin Bell.
12:00 PM
Infected
Two journalists who were once romantically involved set aside their differences and join forces with an unlikely ally to thwart an extraterrestrial plot.
Cast includes Judd Nelson, Isabella Rossellini, Maxim Roy and Gil Bellows.
02:00 PM
High Plains Invaders
The hanging of train robber Sam Phoenix (James Marsters) is abruptly halted by an invasion of uranium-based aliens, forcing Sam and a ragtag group of survivors to find sanctuary in a church. As the Old West becomes infested with the killer insectoids, Sam and company must find a way to fight back.
Cast includes James Marsters, Cindy Sampson, Sebastian Knapp and Sanny Van Heteren.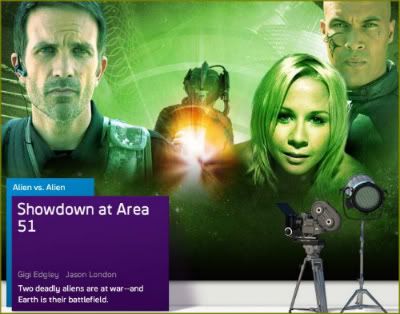 04:00 PM
Showdown At Area 51
Two rival aliens bring their dispute to Earth and it's up to a scientist and an ex-soldier to intervene before their battle destroys the world.
Cast includes Jason London, Gigi Edgley, Christa Campbell, Coby Bell, Jahidi White and Lee Horsley.