Source:
TV Drama Watch
[follow link for complete interview]

TV DRAMA WATCH: Fairly Legal: Interview with Michael Trucco
by Lynn DeVries on February 14, 2011
One of the stars of USA network's new series, Fairly Legal is Michael Trucco. He's not only handsome and charming, but he's fun to talk to as well. On Thursday, he agreed to answer questions from many of us about his character on the show, how he originally got into acting and what may be ahead for his character on the show. This is the transcript of that conversation. Unfortunately, the phone line occasionally cut out, so there are some gaps in things in a couple of places.
Be sure to watch this week's episode of Fairly Legal when it airs on Thursday at 10/9c on USA..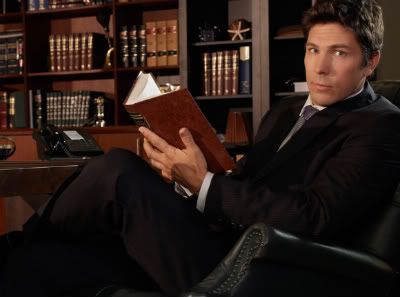 ...
Q: What challenges you about playing this character?
M. Trucco
: That's a good question. I think striking a balance between the character of Justin Patrick and Kate Reed is the challenge. We've sort of explored the unconventional side of the male character in Justin and in terms of this relationship between Kate and Justin, we're in the midst of a divorce when we pick up the series, as you know. They still have a relationship that would be considered friends with benefits, so there is definitely an aspect—these two end up in bed together several times and oftentimes, for the male, in a relationship, that arrangement seems to be okay. If it aint broke, don't fix it.
I think what's challenging here is that the writers of the show have given Justin the sort of moral perspective. He's not copacetic with this relationship. He doesn't like the way things stand. He wants some sort of resolve. I find that a unique perspective and one that is challenging in this character...