Source:
Chiller TV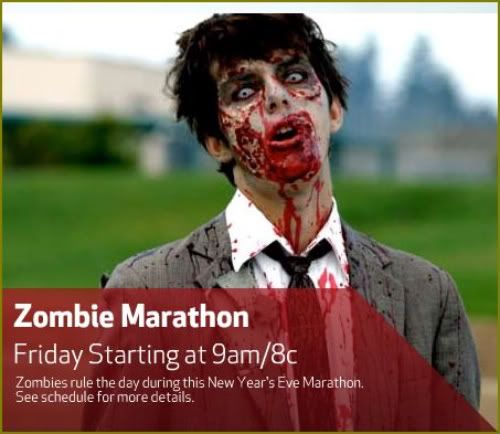 Chiller TV New Year's Eve Zombie Marathon
[
NOTE: Times are ET
]
09:00 AM
Dance Of The Dead
On prom night, high-school misfits are the only ones who can save their classmates from zombies.
Cast includes Jared Kusnitz, Greyson Chadwick, Chandler Darby and Carissa Capobianco.
11:00 AM
Zombie Town
A parasite turns people into flesh-eating zombies.
Cast includes Adam Hose, Brynn Lucas, Dennis Lemoine and Phil Burke.
01:00 PM
The Mad
A horror-thriller in which a doctor and his teenage daughter are terrorized by flesh-eating zombies at a truck stop.
Cast includes Billy Zane, Maggie Castle, Shauna MacDonald and Evan Charles Flock.
03:00 PM Special
Chiller 13: The Decade's Scariest Movie Moments
04:30 PM Special
Chiller 13: The Decade's Scariest Movie Moments
06:00 PM
The Evil Dead
Five friends travel to a cabin in the woods, where they unknowingly release flesh-possessing demons.
Cast includes Bruce Campbell, Ellen Sandweiss, Richard DeManincor, Betsy Baker and Theresa Tilly.
08:00 PM
Return Of The Living Dead
Punk rockers, a cremator and medical-supply workers have a problem with zombies in Kentucky.
Cast includes Clu Gulager, James Karen, Don Calfa, Thom Mathews and Beverly Randolph.
10:00 PM
Dance Of The Dead
12:00 AM
Boy Eats Girl
A teenager is raised from the dead as a zombie and feasts on his former classmates.
Cast includes Samantha Mumba, David Leon, Tadhg Murphy, Laurence Kinlan and Sara James.
02:00 AM
Zombie Town
04:00 AM
The Mad