Source:
WTNH (CT)
[follow link for complete companion article]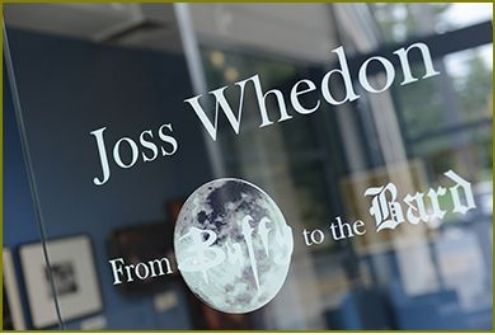 JOSS WHEDON: FROM BUFFY TO BARD - WTNH VIDEO: NEW EXHIBIT AT WESLEYAN UNIVERSITY
The new television series called "
Marvel's Agents of S.H.I.E.L.D.
" debuts later this month on
ABC
. And one of the co-creators of the show is currently being honored at one local university.
"
Joss Whedon is a graduate of Wesleyan University and I would say that he's one of the most influential people in pop culture today
," said
Andrea McCarty
, curator.
On the grounds of the Middletown Institution,
Mr. Whedon
once walked, visitors can follow in his footsteps at a new exhibit called "
Joss Whedon; From Buffy to Bard...
"
For additional information, please visit the Wesleyan University site, the
Rick Nicita Gallery
.
Joss Whedon: From Buffy to the Bard
The Wesleyan Cinema Archives presents a retrospective look at the career of
Joss Whedon
('87), from his years at Wesleyan to his 2012 production of
MUCH ADO ABOUT NOTHING
(2012).
The exhibit in the Rick Nicita Gallery features posters, notebooks, photographs, props and artwork from
BUFFY THE VAMPIRE SLAYER
,
SERENITY
,
THE AVENGERS
and more.
Hours:
During the school year:
Fridays and Saturdays, 12-4 p.m. and by appointment
The Rick Nicita Gallery is located in:
Center for Film Studies
Wesleyan University
301 Washington Terrace
Middletown, CT 06457
Information: 860 685-2220