Source:
Collider
[follow link for complete interview]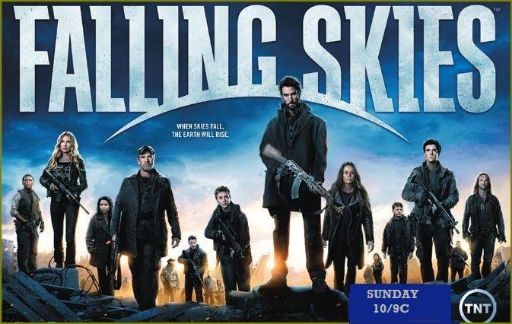 COLLIDER: Remi Aubuchon Talks FALLING SKIES Season 3, Topping Previous Seasons, Revealing More Mythology, Hiring Doug Jones and Stepping Down as Showrunner
by
Christina Radish
June 10th, 2013
The
TNT
drama series
Falling Skies
has returned for its third season, as the epic battle between humans and aliens continues. Seven months have passed since viewers last saw the survivors of the 2nd Mass, led by Tom Mason (
Noah Wyle
), and now that they've teamed up with Volm and a band of rebel Skitters, the human race looks like it might just have some hope. Executive produced by
Steven Spielberg
, the show also stars
Moon Bloodgood
,
Will Patton
,
Drew Roy
,
Connor Jessup
,
Maxim Knight
,
Sarah Carter
,
Colin Cunningham
and
Seychelle Gabriel
, along with
Doug Jones
,
Gloria Reuben
and
Robert Sean Leonard
.
While at the show's press day, showrunner/executive producer/writer
Remi Aubuchon
spoke to Collider at both a roundtable and a 1-on-1 interview about how challenging it is to top their previous seasons, what the new faces bring to Season 3, deciding how much mythology to reveal each season, what led them to hire
Doug Jones
to bring the alien Cochise to life instead of doing it through CG, whether the humans' suspicions of the Volm are justified, how difficult it was to decide to step down as showrunner and pursue his dream of writing science fiction novels, and how he will definitely keep tuning in, as a viewer...
...
Collider: What led you from initially wanting to do Cochise with CGI to hiring Doug Jones?
Remi Aubuchon
: "
Initially, we were trying to figure out a way to have a CG character. Steven [Spielberg] is the master of aliens. There's thought that he actually has met aliens. But, his standards are exacting and what he really wanted was not to have people in blue make-up. What we, as writers, wanted was real interaction between the human actors and our alien. We wanted there to be intimate scenes where they're touching or at least in close proximity with each other. While Noah [Wyle] is a master at acting with a tennis ball, which is what he had to do for the Espheni, we felt strongly that we needed a real actor there (for Cochise), who could interact with them, as a character on the set. We went through a lot of iterations. We were talking about motion capture and wearing the suit with the dots. I've been a fan of Doug Jones for a very long time, and certainly since Hellboy. I kept asking people, "Is that CG?," and they said, "No, that's actually an actor in a suit." I said, "I don't understand how that works. How does he make it come alive?" And then, I watched Doug work. The suit that we have for Cochise is just a piece of rubber, but when Doug puts it on, it comes alive. We are very lucky that we were able to get a master like Doug to portray that character. It saved our butts. We probably would have had Cochise on screen for about a third or maybe even a quarter of what we were actually able to have, because of the expense of doing motion capture and CG...
"
Falling Skies
season three airs Sunday at 10/9C on
TNT
.
CLICK HERE TO VIEW THE EPISODE TRAILER FOR 'BADLANDS,' AIRING JUNE 16, 2013.