Source: Blog Talk Radio's
SciFi Pulse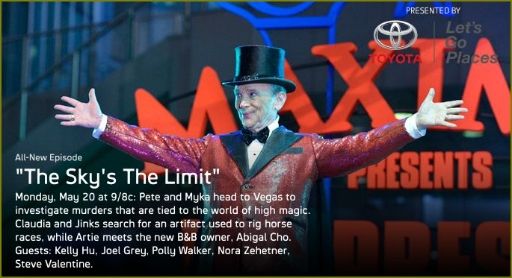 WAREHOUSE 13 - SCIFI PULSE: CAST AUDIO INTERVIEW
May 15, 2013
Marx
and
Julie
talk about what is happening in the world of film, TV and web series.
This time, GenreTainment chats with
Richard Cutting
, the creator of the UFO mystery series
Milgram and The Fastwalkers
. Plus, a bonus interview with the cast and guest stars of
Warehouse 13
.
Cutting
talks to us about his award winning series, his views on the future of web television, and we even talk in detail about UFOs (spooky). The new season of
SyFy
Channel's
Warehouse 13
has begun and we have bonus audio from interviews we recently had with stars
Eddie McClintock
&
Joanne Kelly
; and
Warehouse 13
showrunner
Jack Kenny
. Plus, we talk to recent guest stars
Missi Pyle
(
The Artist
) &
Enrico Colantoni
(
Veronica Mars
).
[
NOTE: The Warehouse 13 audio portion of the podcast begins at the 60:02 mark.
]
Warehouse 13
airs Monday at 10/9C on
Syfy
.
CLICK HERE TO VIEW THE EPISODE TRAILER FOR 'THE SKY'S THE LIMIT,' AIRING ON MAY 20, 2013.