Source:
MSN TV
[follow link for complete column]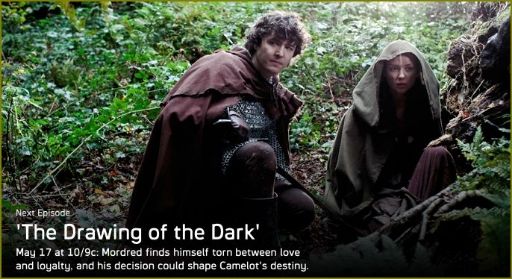 MSN TV: TONIGHT'S PICKS FRIDAY, MAY 17, 2013
...
Merlin
10:00 PM, SYFY
A druid named Kara (
Alexandra Dowling
) tries to kill Arthur (
Bradley James
), who sentences her to death. Mordred (
Alexander Vlahos
), who used to be in love with Kara, pleads with Arthur to spare her, and when that doesn't work, he uses magic to help her escape. Merlin (
Colin Morgan
) fears that Mordred is now more determined than ever to destroy Arthur, and he's right.
Katie McGrath
also stars in the new episode "
The Drawing of the Dark
."
CLICK HERE TO VIEW THE EPISODE TRAILER FOR 'THE DRAWING OF THE DARK'