Source:
Hallmark Channel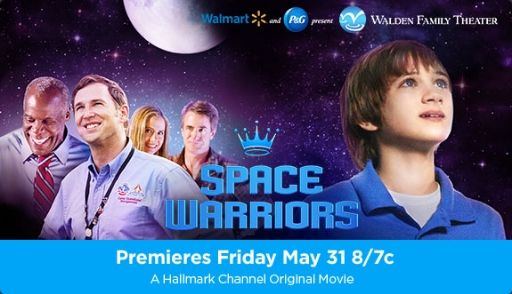 SPACE WARRIORS - HALLMARK CHANNEL VIDEO: MOVIE TRAILER - PREMIERES FRIDAY, MAY 31, 2013 AT 8/7C
Jimmy Hawkins (
Thomas Horn
) has lived and breathed astrophysics his entire life and as a result, possesses an encyclopedic knowledge of the field. So when the opportunity to compete and win a seat on the next space shuttle arises, he secretly applies despite his father's, retired NASA astronaut Capt. Andy Hawkins (
Dermot Mulroney
) and mother's (
Mira Sorvino
), reservations. When Jimmy secures the final spot to attend the special space camp at the Space & Rocket Center, which is run by former astronaut Col. Roy Manley (
Josh Lucas
), he joins an elite team of teens called
The Warriors
who must test their skills against a strong but devious opposition,
The Titans
.
Just as the competition is coming to an end and
The Warriors
are feeling defeated, there is an urgent crisis aboard the International Space Station. High-ranking NASA official, Commander Phillips (
Danny Glover
), has run out of options and it becomes clear that it will be up to these kids to solve the problem and save the lives of the astronauts and cosmonauts some 200 miles from Earth. Using their skills and abilities to work together as a team,
The Warriors
hatch a brilliant plan that just might save the day.
Cast includes Josh Lucas, Dermot Mulroney, Booboo Stewart, Danny Glover, Mira Sorvino, Ryan Simpkins, Thomas Horn, Grayson Russell, Savannah Jayde, Rico Ball and Chris Ashworth.