Source:
Syfy

DEFIANCE - SYFY VIDEO: 'PILOT' SNEAK PEEK - NEW SERIES PREMIERES MONDAY, APRIL 15, 2013 AT 9/8C - TWO-HOUR EPISODE!
CLICK HERE TO VIEW THE APRIL SCHEDULE ON SYFY
Premise
: A war between humans and aliens has left Earth forever changed in this futuristic drama, which follows a group of survivors as they struggle to rebuild and live together in peace.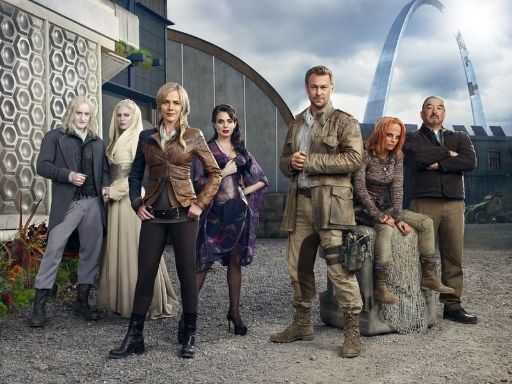 Defiance cast includes Tony Curran, Jaime Murray, Julie Benz, Mia Kirshner, Grant Bowler, Stephanie Leonidas and Graham Greene.
The arrival of the mysterious Nolan (
Grant Bowler
) and his charge Irisa (
Stephanie Leonidas
) to the town of
Defiance
marks a threat to the fragile peace that exists between the residents in the premiere of this futuristic drama, which is set in the year 2046, more than 30 years following a war between humans and aliens that left Earth forever changed.
Guest stars include Rob Archer, Carl Bauer, Robert Clarke, Fionnula Flanagan, Jessica Nichols, Douglas Nyback, Justin Rain, Jesse Rath, Julian Robino and Dewshane Williams.