Source: Syfy
schedulebot
[
NOTE: Syfy schedule subject to change(s)
]

CONTINUUM - SYFY: MARCH 2013 SCHEDULE
[
NOTE: Updated March 12, 2013
]
NEW
Continuum
episodes air Monday at 8/7C on Syfy.
When a group of fantatical terrorists escape their planned execution in 2077 by traveling back in time to 2012, they inadvertently take City Protective Services officer Kiera Cameron with them. Trapped in a more "primitive" past, Kiera infiltrates the local police department to try to track down the terrorists before they change the course of history.
Continuum
stars
Rachel Nichols
(
Alias
,
Criminal Minds
,
G.I. Joe
) as Kiera,
Victor Webster
(
Castle
,
Melrose Place
) as detective Carlos Fonnegra - who Kiera allies with - and
Alec Sadler
(
Jericho
,
Scream 4
) as the teenaged tech genius who could be Kiera's key to saving the future.
Continuum cast includes Erik Knudsen, Rachel Nichols, Victor Webster, Stephen Lobo, Stargate Universe's Jennifer Spence; Stargate SG-1's Tony Amendola and Lexa Doig; Richard Harmon, Omari Newton, Brian Markinson and Roger R. Cross.
Mar 02 01:00 AM
The Politics Of Time
Evidence points to Carlos in the murder of a politician.
An investigative reporter is killed during a high-stakes election, and evidence points to Carlos (
Victor Webster
).
Guest stars include Adam Greydon Reid,
Arctic Air's
Pascale Hutton, Jenn Bird, Sarah Edmondson, Frank Cassini, Jim Thorburn,
Battlestar Galactica's
Tahmoh Penikett, John Reardon, Richard Harmon and Paula Elle.
CONTINUUM SEASON ONE MARATHON SCHEDULE SUNDAY, MARCH 3, 2013 - CLICK HERE TO VIEW SCHEDULE
Mar 04 07:00 PM
The Politics Of Time
Mar 04 08:00 PM
Playtime
Mar 04 11:00 PM
Playtime
Kiera and Carlos investigate two murder suicides.
Kiera (
Rachel Nichols
) and Carlos (
Victor Webster
) investigate two murders where the shooters immediately committed suicide after eliminating their victims. Both were software testers for a local computer gaming company that's been developing an immersive holographic program and Kiera decides to try it out. The effects on her are devastating. Not only have her internal electronics gone haywire, she is now under the control of Edouard Kagame (
Tony Amendola
) and
Liber8
. Alec (
Erik Knudsen
) works frantically to reboot her processors but also finds a previously unknown file addressed to him.
Guest stars include Venus Terzo, Aaron Craven, Mike Dopud, Richard Harmon, Evan Lendrum, Victor Ayala, Danny Wattley, Matthew Mylrea, Monique Ganderton, Aili Storen, Cameron Barnett and Rondel Reynoldson.
Mar 09 01:00 AM
Playtime
Mar 11 07:00 PM
Playtime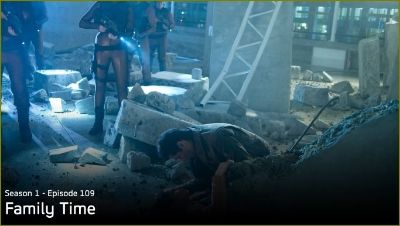 Mar 11 08:00 PM
Family Time
Mar 11 11:00 PM
Family Time
Carlos and Kiera end up in an armed standoff with Liber8.
Kiera (
Rachels Nichols
) and Carlos (
Victor Webster
) visit Roland Randol's (
Michael Rogers
) farm to check up on an excessively large purchase of farm fertilizer. Kiera is somewhat taken aback to find Alec (
Erik Knudsen
) there, not realizing that Randol is his step-father. Randol assures them that there has been a mistake and that he never purchased as much fertilizer as they claim. When they check the storage shed however, they find a truck rigged with the chemicals and ready for use as a bomb. It's Randol's son Julian (
Richard Harmon
) and his friends who are looking to make statement even though the elder Randol has never preached violence. Carlos is shot when they are taken prisoner but Kiera and Alec try to gain control of the situation.
Guest stars include Wesley MacInnes, James Pizzinato, Casey Dubois, Jonathan Walker, Curtis Lum, Brian Markinson, John Reardon, Sean Michael Kyer, Michael Rogers, Janet Kidder, Richard Harmon and Nikohl Boosheri.
Mar 16 01:00 AM
Family Time
CONTINUUM SEASON ONE MARATHON SCHEDULE MONDAY, MARCH 18, 2013 - CLICK HERE TO VIEW SCHEDULE
Mar 18 08:00 PM
Endtime
- Syfy Premiere and Season One Finale!
Mar 18 11:00 PM
Endtime
Kiera fights a ticking clock to stop a terrorist attack, while Alec and Julian's place in history will become defined by the horrific event. Continuum Monday at 8/9c.
After spending the night with Kellog (
Stephen Lobo
), Kiera (
Rachel Nichols
) meets Jason (
Ian Tracey
) who convinces her he was in the control room when the time travel device went off only he was sent back to 1992 and for 20 years has been waiting for this particular day - the day a bomb goes off killing many people and starting the evolution into the world of the future. They manage to evacuate the building where they think the explosion will take place. It doesn't work out as planned and unknown to Kiera, the terrorist attack is all part of a plan that was hatched in 2077.
Guest stars include Ian Tracey, Jonathan Walker, Nicholas Lea, William B. Davis, Brian Markinson and Richard Harmon.
Mar 22 01:00 AM
Endtime