Source: Syfy
schedulebot
[
NOTE: Syfy schedule subject to change(s)
]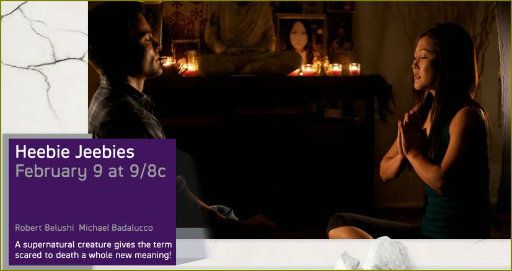 HEEBIE JEEBIES - SYFY: NEW MOVIE SYNOPSIS - AIRS SATURDAY, FEBRUARY 9, 2013
This legend will scare you to death. Syfy Original Movie Heebie Jeebies premieres Saturday Feb 9 at 9/8c.
Small town deputy Todd Crane (
Robert Belushi
) must learn to control his panic attacks when his community is threatened by a centuries-old creature that radiates fear and is out for one thing—revenge.
Cast includes Robert Belushi, Cathy Shim, Michael Badalucco, Lucille Soong, Evie Thompson, Dave Randolph-Mayhem Davis, Olivia Ku, Carl Savering, Marion Ross and Jennifer Rubin.