Source:
Syfy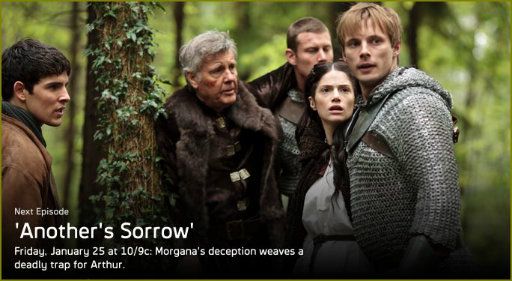 MERLIN - SYFY VIDEO: 'ANOTHER'S SORROW' SNEAK PEEK - AIRS FRIDAY, JANUARY 25, 2013 AT 10/9C
Watch a sneak peek of the next all-new episode of Merlin, Friday at 10/9c.
With Princess Mithian (
Janet Montgomery
) as the perfect bait, Morgana (
Katie McGrath
) conjures a deception so powerful that the whole of Camelot is taken in - even Merlin (
Colin Morgan
) himself. But as the storm clouds gather, will the young warlock see through the lies? Or will Morgana at long last fulfil her dreams of revenge?
Guest stars include Fintan McKeown, Janet Montgomery, James Fox, Rupert Young, Richard Wilson, Adetomiwa Edun, Eoin Macken and Tom Hopper.