Source: Syfy
schedulebot
[
NOTE: Syfy schedule subject to change(s)
]
VAMPIRE MOVIE MINITHON - SYFY: SCHEDULE MONDAY, JANUARY 7, 2013
09:00 PM
Dawn Of The Dead
A nurse, a policeman, a young married couple, a salesman, and other survivors of a worldwide plague that is producing aggressive, flesh-eating zombies, take refuge in a mega Midwestern shopping mall.
Cast includes Sarah Polley, Ving Rhames, Jake Weber, Mekhi Phifer, Ty Burrell, Michael Kelly, Kevin Zegers and
Stargate Universe's
Louis Ferreira.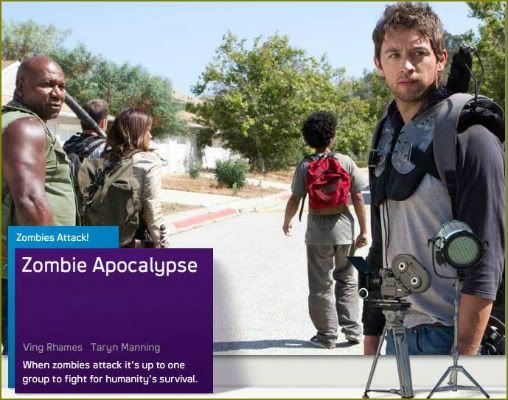 11:30 PM
Zombie Apocalypse
Months after a zombie plague has wiped out 90 percent of the American population, a small group of survivors fight their way cross-country to a rumored refuge on the island of Catalina.
Cast includes Ving Rhames, Lesley-Ann Brandt, Taryn Manning, Eddie Steeples, Johnny Pacar, Gerald Webb, Gary Weeks, Lilan Bowden and Robert Blanche.
01:30 AM
Wes Craven Presents: They
"
They
" are scary creatures that haunted the childhood dreams of a psychology student (
Laura Regan
)---and "
They
" are back in this standard thriller.
Cast includes Laura Regan, Marc Blucas, Ethan Embry, Desiree Zurowski, Mark Hildreth and Jodelle Ferland.