Source:
Syfy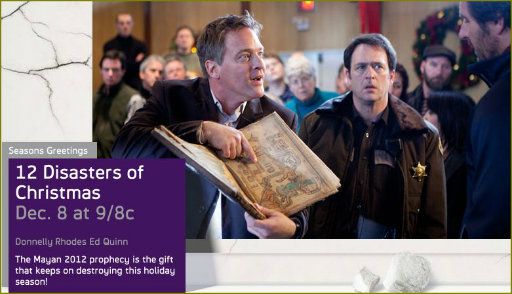 12 DISASTERS OF CHRISTMAS - SYFY VIDEO: MOVIE TRAILER - PREMIERES SATURDAY, DECEMBER 8, 2012 AT 9/8C
Syfy Original Movie 12 Disasters of Christmas premiering Saturday Dec 8 at 9/8c.
Just in time for the joyous holiday season, the new Syfy Original Movie '
12 Disasters of Christmas
' takes on the ancient Mayan prophecy of worldwide destruction at the end of 2012.
In '
12 Disasters of Christmas
', mysterious disasters connected to the Mayan prediction as well as the iconic holiday song,
The 12 Days of Christmas
, are systematically destroying a small town and spreading throughout the world.
A father (
Ed Quinn
, "
Eureka
," "
Starship Troopers 2
") learns that his daughter (
Magda Aponowicz
, "
Kyle XY
," "
Caprica
") is really the "Chosen One" who, alone, can stop further catastrophe – if he can stave off the lunatic townspeople blaming her for the community's destruction. The movie also stars "
Battlestar Galactica's
"
Donnelly Rhodes
.
Source:
CineTel
On Jacey's (
Magda Apanowicz
) 18th birthday, strange things begin to happen: water turns red, tornados appear out of nowhere, and massive ice spears come shooting out of the sky. When Jacey is told she is the 'chosen' one, she soon realizes that she is the only one who has the power to stop the impending doom. Using an ancient book of Mayan prophecies, Jacey and her father (
Ed Quinn
) must figure out how to stop the twelve disasters that begin the countdown to the end the world!
Cast includes Ed Quinn, Magda Apanowicz, Holly Elissa, Ryan Grantham, Scarlett Bruns, Donnelly Rhodes, Brenna O'Brien, Andrew Airlie, Roark Critchlow, Kaj-Erik Eriksen and Greg Kean.