Source: Syfy
schedulebot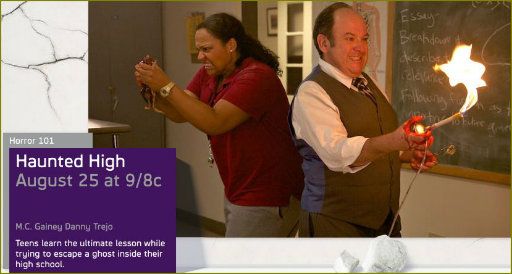 HAUNTED HIGH - VIDEO: NEW MOVIE PREMIERING SATURDAY, AUGUST 25, 2012 AT 9/8C ON SYFY
An unlikely earthquake shocks the students and faculty at Helville High. It's the weekend before Homecoming and the kids planning the event are stuck at school as a result of the quake. After the School Board decides that the quake was due to a gas leak in the basement - the Homecoming party will go ahead as planned.
Unknown to all, the earthquake released spirits that have been trapped in the walls of the school for years who immediately possess Principal Spiro (
Mike Kimmel
) and other faculty and students. An aftershock turns the Glee Club's big practice dance number into mayhem, and the school is on lockdown - no way in or out. There are eight kids stuck inside the school who start to realize that their teachers are not who they used to be! The paranormal incidents at first seem funny, and add. Then things get decidedly tense as students find themselves trapped by the ghosts with no way out. In order to defeat them, they must become unlikely teammates, inventing clever ways to resolve the school's secret urban legend.
Cast includes M.C. Gainey, Lauren Pennington, Shawn C. Phillips, Danny Trejo, Jonathan Baron, Gabe Begneaud, Charisma Carpenter, Marc Donato, Sergio Figueroa, Stephanie Fischer, Griff Furst, Dana Michelle Gourrier, Danielle Greenup and Mike Kimmel.
Source:
You Tube
Talking to Danny Trejo on the set of Haunted High
Source:
You Tube
Going to New Orleans to act in Haunted High
A little video I filmed while I was in new orleans to act in the upcoming film
Haunted High
for the syfy channel.