Source:
Yahoo! TV
[follow link for complete column]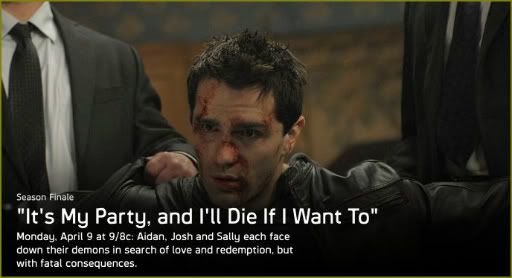 Yahoo! TV: Monday's Picks: What to Watch Monday, April 9, 2012
A list of can't-miss hot shows, undiscovered gems and fan favorites
...
Being Human
MONDAY 9 PM on Syfy
Season Finale
Syfy's supernatural drama wraps ups its sophomore season this week with what's shaping up to be a bloody good finale. Aidan, Josh, and Sally each embark on separate missions to conquer their innermost demons. But will all of the roommates survive to see Season 3? And yes, we know they're a vampire, a werewolf, and a ghost, so 'survive' is a relative term here.