Source:
The Times-Picayune
[follow link for complete interview]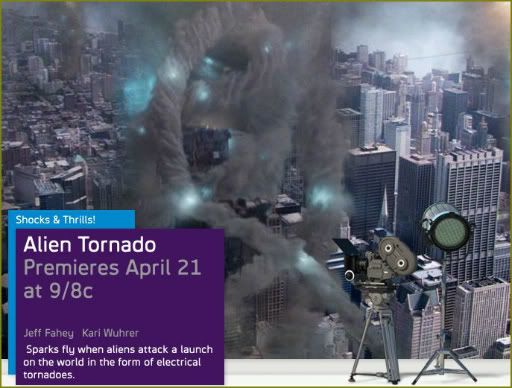 THE TIMES-PICAYUNE: Local actress Stacey Asaro stars in Syfy movie 'Alien Tornado'
Friday, April 20, 2012
by
Dave Walker
A native who attended Archbishop Chapelle High School and the New Orleans Center for Creative Arts, local actress
Stacey Asaro
this weekend makes her cable-movie debut in the science-fiction flick "
Alien Tornado
," debuting at 9/8C Saturday (April 21) on Syfy.
Asaro
, 25, plays Kelly Walker, teenage daughter of single-dad farmer Judd Walker, played by
Jeff Fahey
("
Lost
").
Kari Wuhrer
("
Sliders
") plays a storm-tracking weather blogger. Together and apart, they do battle against electrified tornadoes controlled by extra-terrestrials.
Also acting in the film in a small role is
Terry Kiser
, who portrayed the corpse Bernie in "
Weekend at Bernie's
."
The film was shot in Lafayette by Baton Rouge-headquartered Active Entertainment, which also produced the earlier "
Weather Wars
" and "
Swamp Shark
" for Syfy.
"
Alien Tornado
" is the first big acting credit for
Asaro
, a graduate of the Chicago College of Performing Arts Theater Conservatory at Roosevelt University.
"I've been in a few commercials here, as well as a lot of print work," Asaro said in an interview earlier this week, adding that she also had a small role in the Baton Rouge-shot "Never Back Down 2" and one earlier Active title.
"Alien Tornado," she said, "was the best experience of my life, on- and off-film," she said. "It was so great to be thrown into a lead role, which is something that most actresses dream of getting, and I got it within the first couple of months of graduating from college..."