Source:
Show Patrol
[follow link for complete interview]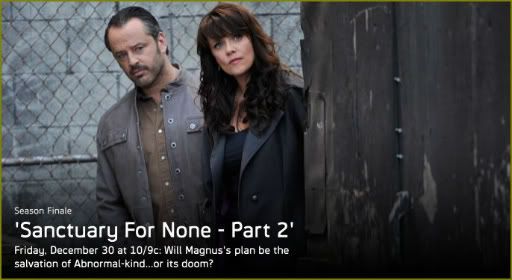 SANCTUARY - SHOW PATROL: AMANDA TAPPING TEASES SEASON FOUR FINALE - FRIDAY, DECEMBER 30, 2011 AT 10/9C ON SYFY
'Sanctuary' wraps Season 4 with 'final reckoning'
By
Curt Wagner
December 30, 2011
If you thought Helen Magnus made a shocking play in the first part of the "
Sanctuary
" Season 4 finale, wait until you see what show does in "
Sanctuary for None: Part 2
," airing at 9 p.m. Dec. 30 on Syfy.
Star and producer
Amanda Tapping
said Magnus's latest surprise play is the "final reckoning" for the
Sanctuary
team.
If you're caught up with events, Will (
Robin Dunne
) currently is being forced to work with SCIU director Greg Addison (
Brian Markinson
) while Bigfoot (
Christopher Heyerdahl
) has decided to remain in the abnormal homeland and team with rebel leader Caleb (guest star
Gil Bellows
). Henry (
Ryan Robbins
), Tesla (
Jonathon Young
) and Kate (
Agam Darshi
) are sided firmly with Magnus, even though they doubt her move to expose the
Sanctuary
to the public was wise.
In tonight's episode, Magnus and Caleb still are struggling to keep the abnormal homeland safe from SCIU and the other human organizations that would see it destroyed.
Tapping
said it was interesting working with guest star
Bellows
.
"
He is such a Zen and really lovely guy. He is so sweet and he was so happy to be on our set … [but] he plays this dastardly villain you love to hate
," she said. "
We'd give each other a hug and then launch into a fistfight, so it was good
..."