Source: Show Patrol [follow link for complete interview]

SHOW PATROL: Amanda Tapping teases 'Sanctuary' season finale & takes your questions
December 22, 2011
By
Curt Wagner
When
Amanda Tapping
saw the final mix for the Season 4 finale of "
Sanctuary
," she cried.
"
I wept and then I punched Damian [Kindler] in the arm and said, 'Why did you do that?'
"
Tapping
told me Tuesday during a phone chat from Vancouver.
The finale, "
Sanctuary for None
," will air in two hour-long parts at 9 p.m. Dec. 23 and 30 on Syfy. Written by
James Thorpe
and directed by
Damian Kindler
, the first part has Helen Magnus (
Tapping
) teaming with Hollow Earth rebel leader Caleb (guest star
Gil Bellows
) to build a new homeland for displaced abnormals in the Fifth Ward. Magnus wants to broker a peace deal between the insurgents, SCIU and the other government agencies, but SCIU director Greg Addison (
Brian Markinson
) has other ideas.
A lot goes down in that first episode involving Addison, Will (
Robin Dunne
), Bigfoot (
Christopher Heyerdahl
) and Tesla (
Jonathon Young
), leading Magnus to take desperate action. But I'll leave it at that and let Tapping give the tease for both eps.
"
I would say it is the culmination of 113 years of work and it is the final reckoning for the team,
" she said. "
It's a complete game changer.
"
That word "game-changer" gets bandied about a lot, but I think it is a fitting description of this finale. It opens up inifinite avenues of storytelling for the cast and crew if Syfy grants them a fifth season (which has not been decided yet).
Tapping
and I discussed where the story could go, which I will write in a post for after Part 2 of the finale airs Dec. 30. In the meantime, we talked about other non-spoilery things and I asked her some questions from Twitter followers. Enjoy and happy holidays!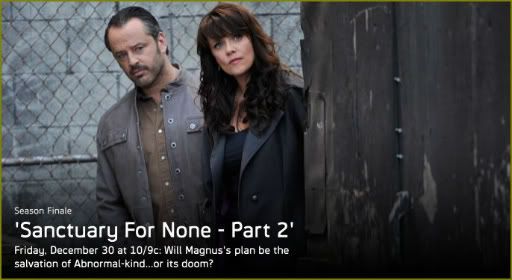 ...
Q: What were some of your favorite moments from the season?
Amanda Tapping
: "
I think that some of the moments that we found in "The Depths," in terms of acting were some of my favorite moments. But oh gosh, that is a huge question Curt. I don't know because I thought this season we really hit it out of the park just in terms of developing the characters that much further, in terms of developing the technology, in terms of the mythology of the show. I think this season really resonated on a lot of levels. I loved the interplay with Jonathan Young this year and the relationship between Tesla and Magnus being much more flirtatious and fun. Yes, he is a pain in the ass, but he's a genius and nobody understands what it's like to live as long as Helen, but she's the closest...
"