Source: Syfy
schedulebot
SYFY: HORROR MOVIE MARATHON SUNDAY, JUNE 12, 2011
09:00 AM
Timber Falls
Young campers are terrorized by a creepy backwoods family in this sorry slasher flick.
Cast includes Josh Randall, Brianna Brown, Justified's Nick Searcy, Beth Broderick, Sascha Rosemann and T.W. Leshner.
11:00 AM
Flu Bird Horror
Avian flu fears are tapped in this horror tale about teens menaced by vicious mutant birds during a wilderness outing.
Cast includes Clare Carey, Lance Guest, Jonathon Trent, Sarah Butler, Rebekah Kochan, Bill Posley and Brent Lydic.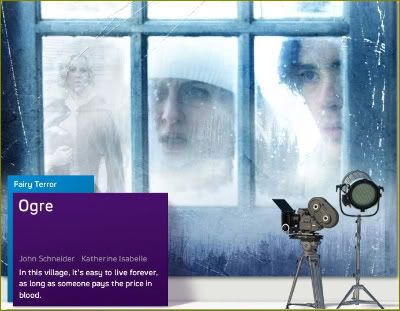 01:00 PM
Ogre
Hikers happen upon a cursed village, whose denizens are indebted to an ogre, just in time for the yearly human sacrifice.
Cast includes John Schneider, Ryan Kennedy, Katharine Isabelle, Brendan Fletcher, Chelan Simmons, Andrew Wheeler, Kyle Labine and Alex Zahara.
03:00 PM
Goblin
Halloween spawns a goblin that is bent on taking a baby from an unsuspecting family, and it's up to their teenage daughter to save her little brother from becoming the creature's meal.
Cast includes Gil Bellows, Tracy Spiridakos, Camille Sullivan, Reilly Dolman, Andrew Wheeler,
Stargate SG-1's
Colin Cunningham and
Battlestar Galactica's
Donnelly Rhodes.
What's Wrong - Goblin
Watch a death scene from the Syfy Original Movie "Goblin."
05:00 PM
Ghost Town
College students encounter deadly outlaw spirits when their bus breaks down in a real ghost town.
Cast includes Jessica Rose, Randy Wayne, Gil Gerard, Billy Drago, Cian Barry, Joey Ansah and Annabelle Wallis.
07:00 PM
The Cave
Nasty serpents terrorize a dive team exploring underwater caverns in this torpid "
Alien
" rip-off.
Cast includes
Chase's
Cole Hauser,
CSI: Miami's
Eddie Cibrian,
V's
Morris Chestnut,
Game of Thrones'
Lena Headey,
Covert Affair's
Piper Perabo, Rick Ravanello and
Hawaii Five-0's
Daniel Dae Kim.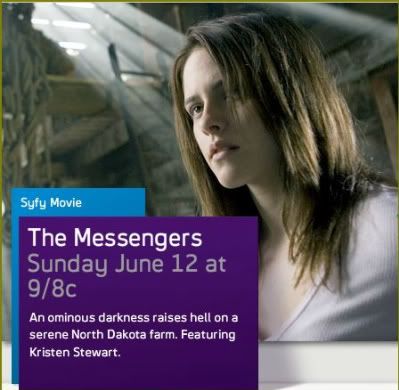 09:00 PM
The Messengers
Semi-creepy chiller about ghosts haunting a teen (
Kristen Stewart
) who has moved from Chicago to rural North Dakota with her family.
Cast includes Kristen Stewart, Dylan McDermott, Penelope Ann Miller, John Corbett, Evan Turner, William B. Davis and Jodelle Ferland.
11:00 PM
Skinwalkers
A pack of biker werewolves try to get their claws on a half-boy, half-wolf 12-year-old (
Matthew Knight
) who is destined to end their lineage when he turns 13.
Cast includes Jason Behr, Elias Koteas, Rhona Mitra, Natassia Malthe and Kim Coates.
01:00 AM
Stephen King's The Langoliers - Part One
Part 1 of a two-parter from King's novella, in which 10 travelers on a red-eye flight survive a mysterious occurrence that alters time and space.
Cast includes Patricia Wettig, Dean Stockwell, David Morse, Mark Lindsay Chapman, Frankie Faison and Bronson Pinchot.
03:00 AM
Stephen King's The Langoliers - Part Two
The stranded passengers stage an escape from the airport---now imperiled by the vicious, advancing langolier creatures.