Source: Syfy
schedulebot
SYFY (US): Werewolf Movies Marathon Wednesday, April 13, 2011
08:00 AM
The Beast Of Bray Road
Jeff Denton and Tom Downey star in this horror movie about efforts to stop a werewolf's rampage in Wisconsin.
Cast includes Jeff Denton, Thomas Downey, Sarah Lieving, Joel Hebner, Tom Nagel, Noel Thurman and Matt Kawczynski.
10:00 AM
Hybrid
Justine Bateman and Cory Monteith star in this horror movie about a cross-species organ transplant that goes awry, leaving a security dispatcher with wolflike tendencies.
Cast includes Justine Bateman, Tinsel Korey, William MacDonald, Gordon Tootoosis, Brandon Jay McLaren,
Glee's
Cory Monteith and Robert Borges.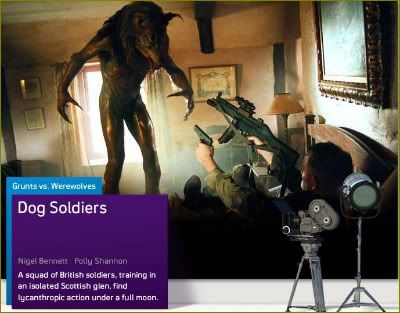 12:00 PM
Dog Soldiers
A British army sergeant (Sean Pertwee) and his green troops battle werewolves after rescuing a wounded officer whose men were savaged by the ravenous beasts.
Cast includes Sean Pertwee, Kevin McKidd, Emma Cleasby, Liam Cunningham, Thomas Lockyer and Darren Morfitt.
02:00 PM
Ginger Snaps Back: The Beginning
Two orphaned sisters lost in the Canadian woods find their way to a strange outpost, where they encounter werewolves. Slow-paced, atmospheric prequel.
Cast includes Katharine Isabelle, Emily Perkins, Nathaniel Arcand,
Stargate SG-1's
JR Bourne, Hugh Dillon, Adrien Dorval and Brendan Fletcher.
04:00 PM
Ginger Snaps Unleashed
The late Ginger's sister Brigitte, now a werewolf herself, must try to find a cure for her blood lust before the next full moon while hiding out in a rehab clinic from a relentless werewolf.
Cast includes Emily Perkins, Brendan Fletcher, Katharine Isabelle, Tatiana Maslany, Susan Adam, Janet Kidder, Chris Fassbender and Eric Johnson.