Source:
Star Pulse
[follow for complete interview]

STAR PULSE: Interview: 'Fairly Legal' Is A Perfect Fit For Michael Trucco
by Brittany Frederick February 2nd, 2011
As dedicated Assistant District Attorney Justin Patrick on USA's new original series Fairly Legal, Michael Trucco has turned my head to the point of being near show-stealing. Recently, I had the pleasure of talking to the former Battlestar Galactica star to find out what makes the character of Justin tick, about his own Northern California upbringing, and how he has more in common with his on-screen alter ego than you might think...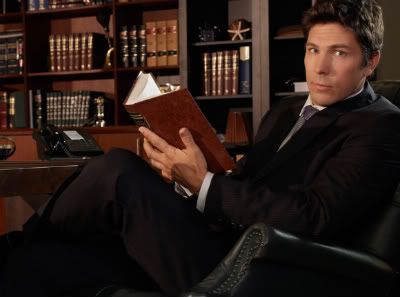 ...
Speaking of love, I have to say I've really loved your work so far on Fairly Legal. Justin seems like he might be a tough role to play, though, because he'd be the protagonist of any other legal series but he's presented from a whole other angle here. So how do you approach him?
MT
: There is a certain aspect of taking a second seat in playing Justin. The show is centered on the character of Kate Reed, and you know that she's been dealing with the other characters [like] her assistant Leo and her stepmother and her ex-husband, who I play. I think you have to reconcile with that as an actor. I don't think it has presented any problems; there are advantages. My workload is considerably less than Sarah [Shahi]'s. That poor girl is in every shot of every scene of every day of every hour that we shoot. I definitely have a more cushy schedule.
But, in terms of the character, I don't really see it as a deficit or a disadvantage. I think we explore the stereotypes of male and female characters on its head in this show. And that could make a certain challenge in playing a character that is the male prosecuting attorney, who would be the driving force behind the show, having to take a step down in the presence of Kate Reed...